Recycling is changing in Lichfield and Tamworth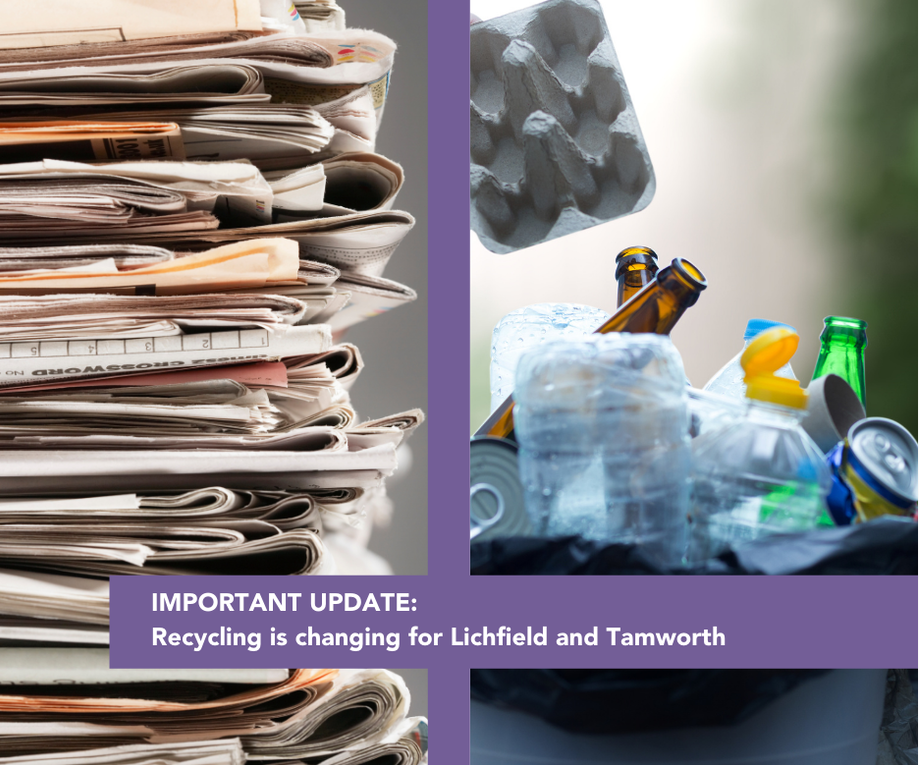 To improve the quality of recycled material collected from homes in Lichfield and Tamworth, residents must soon separate paper and card from other recyclable waste and new bags and bins will be rolled out to facilitate the change.
Escalating recycling costs combined with strict government targets for the reduction of emissions have seen Tamworth and Lichfield Joint Waste Service researching the best options for improving recycling rates in the area.
The existing approach often results in contaminated paper and card, particularly when recycling is not rinsed out, and liquids and fats leak into the bins. In partnership with Staffordshire Councils, officers have engaged with local businesses, residents and schools to seek their opinion and liaised with other councils across the country to design the best solution for Lichfield and Tamworth.
The new system will see paper and card separated from other recycling materials.
Over the next six weeks most households will receive a durable, waterproof, blue bag within which to store paper and card until it is collected.
For storage the bags, which are weighted and waterproof, can be placed in the top of the blue bin.
Rural homes and those with difficult access will receive a purple bin so that a vehicle smaller than the new recycling wagons can reach their properties.
All other recycling, including plastic bottles and trays, glass and tins, will continue to be placed in the existing blue bin.
Recycling will still be collected every fortnight and more details will be issued over the next few weeks as some homes will see a change of collection day. The change will be detailed in a personalised letter that will be sent to every affected home and organisation over the next two weeks.
Councillor Ashley Yeates, Lichfield District Council's Cabinet Member responsible for Climate Change and Recycling, said:
"It is vital that we do everything we can to improve recycling rates across Lichfield and Tamworth and we are confident this measure will make a significant difference."
Andrew Barratt, Chief Executive at Tamworth Borough Council, said:
"We'll soon be writing out to residents directly, so everyone knows about the changes and how they impact them. We'd like to thank our residents in advance for their patience while we get the new system rolled out - and for playing their part in small individual changes which will hopefully make a big difference to the environment."
More details will be shared each week as the recycling program rolls out.