IRONMAN 70.3 Staffordshire returns this weekend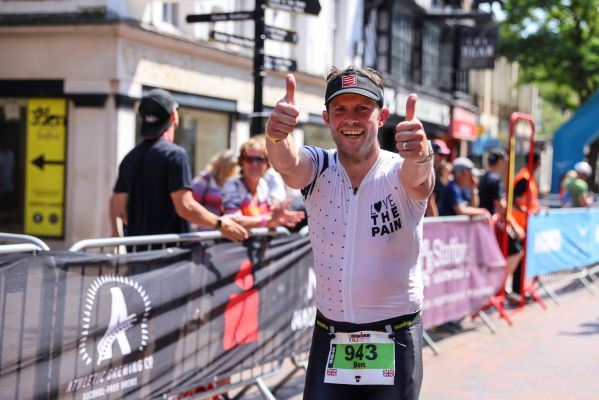 The 2022 IRONMAN season starts in the UK this Sunday as Staffordshire gets set to host the seventh edition of IRONMAN 70.3 Staffordshire.
The middle-distance swim, bike, run event will welcome the biggest athlete field in its history with close to 3,000 athletes registered to race.
As an age group athlete only race, the event will give amateur competitors the chance to be crowned IRONMAN 70.3 Staffordshire Champion for 2022.
Participants of all ages and backgrounds will look to push their limits, as registered athletes span from 18 to 77 years of age and will be travelling from 55 different countries to race here in Staffordshire. A favourite amongst UK triathletes, entrants from England, Wales, and Scotland will make up 89 per cent of the field this year - followed by representation from Ireland, France, the United States, and Poland.
The race will kick off with a self-seeded rolling start from 7am at Chasewater Country Park, where athletes will complete a 1.2mile swim in the freshwater reservoir before heading out into the countryside for the 56mile bike leg of the course.
The route travels through Cannock Chase, traverses Great Haywood and Tixall, and steers toward Stafford Town Centre where athletes transition to their final stretch of the endurance challenge.
The 13.1 mile run then takes athletes alongside the River Sow on the way to Stafford Castle, where the iconic Knights of Stafford Castle - a local Tri Club complete with mediaeval armour - will cheer on participants before they make their way down the red carpet in Stafford's buzzing Market Square.
The first athlete, and new IRONMAN 70.3 Staffordshire Champion, is expected to cross the IRONMAN 70.3 finish line at approximately 11am, with a final race finish for all athletes at 5pm.
Last year's event saw age group athletes Hugh Brashaw and Lydia Dant claim their victories, finishing respectively with times of 4:07:21 and 4:30:33 on what was one of the hottest days of the calendar year.
Staffordshire County Council's Deputy Leader and Cabinet Member for Economy and Skills Philip White said:
"We're delighted to see IRONMAN 70.3 Staffordshire return to the county this year and with more registered athletes than ever before.

"The event enables us to showcase Staffordshire to visitors from across the UK and the world, and we work closely with our neighbours to provide an excellent experience for athletes, their families, and friends.

"With just days to go, everyone is eagerly anticipating the event and we'd like to remind people to check road closure times and locations over the weekend."
Rebecca Sutherland, Race Director for IRONMAN 70.3 Staffordshire, said:
"We'd like to thank Staffordshire County Council and Stafford Borough Council for their continued support and collaboration, as well as the dedicated suppliers, staff, and volunteers that work tirelessly to create the best possible experience for athletes over race weekend.

"Witnessing record-breaking registration numbers for IRONMAN 70.3 Staffordshire is a hugely exciting start to the season, and we look forward to the future."
More information is available on the IRONMAN 70.30 website.