Penni Uni café offers great coffee and a friendly ear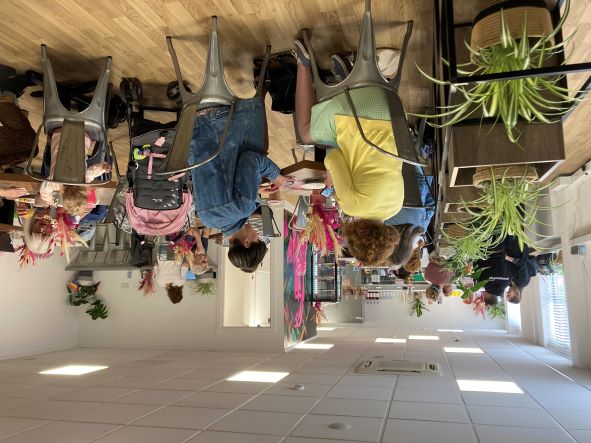 A brand new café is open in Lichfield's District Council House and has a wide range of mouth-watering refreshments on offer for everyone to enjoy.
Whether you are a coffee or tea devotee or partial to a sweet treat or tasty snack Penni Uni café is the perfect place for you to take some time out and relax or catch up with friends over a cuppa.
We have created the facility, located on the ground floor of District Council House in Frog Lane, in partnership with leading Lichfield café and catering group Melbourne.
It is stylishly decorated with colourful graffiti art and exudes a friendly, mellow atmosphere – it's the perfect meeting place.
General Manager Vee Stiles said:
"We are passionate about serving the perfect coffee.

"We not only roast it ourselves, but we use home-made syrups with flavours including vanilla, honeycomb and white chocolate.

"We serve fruit smoothies, a range of stuffed cookies from Bostin Bakery, cakes and Jaffles (Australian toasties) with fillings including New York Deli, brie, bacon and cranberry, spicy vegan and cheese and bean.

"We want this cafe to be a community hub. If anyone is looking for a place to hold a meeting or event, please approach us.

"We also want to bring a little bit of Melbourne to the council offices. If people need to come for a drink and a chat we are here to lend an ear.

"We have all had mental health training – this is not only a safe space, it is a happy space."
Dogs are also welcome and Penni Uni cafe serves doggie biscuits and 'pupaccinos' just for them.
The Leader of Lichfield District Council, Councillor Doug Pullen, said:
"We are delighted with the opening of our Penni Uni café in District Council House.

"Run by Melbourne, which has established a very popular café in Bird Street, Penni Uni is a vibrant, attractive new place and we wish to thank owner Deborah Pease and her team for all their hard work in setting it up.

"Penni Uni café will help make our offices become a hub for the community whilst providing delicious refreshments for visitors and our staff."
Penni Uni café is open 8am to 4pm every weekday.