Celebrating centenaries at Lichfield Heritage Weekend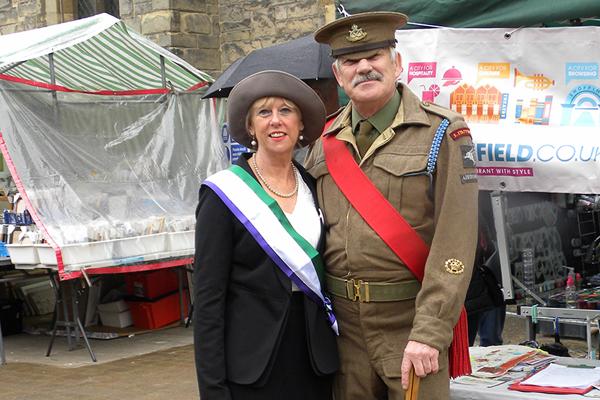 Lichfield Heritage Weekend was on 22 and 23 September and the figures show that it was a busy weekend in the city centre.
This year, the Heritage Weekend celebrated a number of centenaries, including votes for women, Armistice Day, and the first woman to be ordained in a congregational church.
The city centre was bustling, with Lichfield BID's footfall counters showing that more than 60,000 people came into the centre over the Heritage Weekend. There were 39,791 visitors on Saturday and 23,399 on Sunday.
There was lots on offer, with historical properties that are usually closed to the public opening up their doors, guided tours and walks, talks, entertainment on the Market Square, and free activities at heritage venues and on the Market Square.
Erasmus Darwin House celebrated Remarkable Women and Wade Street Church commemorated the first woman to be ordained in a congregational church.
Free activities for youngsters included a Mini Town Crier competition, a hopscotch trail around the city, face painting, and decorating tote bags in the style of Gustav Klimt, who died 100 years ago.
On top of the Samuel Johnson birthday celebrations in the morning, the programme of entertainment on the Market Square on Saturday included music from Lichfield City Concert Band and Blast Off, and a performance by Fired Up Theatre. The South Staffordshire Re-enactment Group also put children and their parents through their paces with drills led by Sergeant Major Marmite!
Councillor Ian Pritchard, Cabinet Member for Economic Growth, Environment & Development Services, said:
"Lichfield Heritage Weekend is an opportunity to celebrate our history and to make it come alive for locals and visitors. I'm pleased, that despite the odd spot of rain, the weekend was busy with many people taking advantage of all that was on offer. This year has been extra special as we celebrate a number of centenaries, including votes for women and the end of the First World War."
To find out more about local attractions and events, go to www.visitlichfield.co.uk.