Save time, get online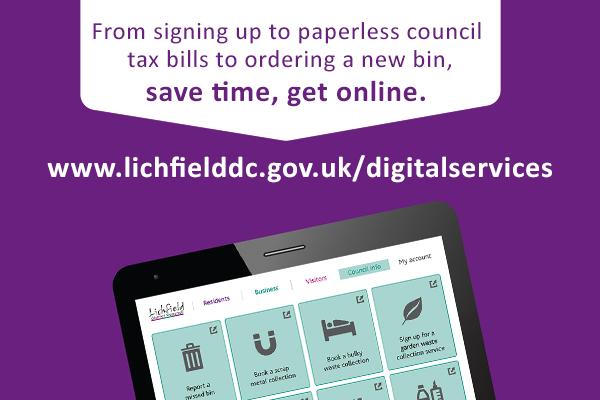 From ordering an extra blue bin through to telling the council you've moved, you can save time by accessing your local services online.
Lichfield District Council has introduced a range of digital forms to its website and is hoping to raise awareness through its 'Save time, get online' campaign.
The campaign is about trying to get more people to interact with the council online, as it is quick and simple to do and reduces pressure on the council's customer services team.
By visiting www.lichfielddc.gov.uk/digitalservices you will find lots of time-saving forms, including how to report a missed bin, book a bulky waste collection, sign up to pay your council tax by direct debit, request paperless council tax and business rates bills, apply for housing benefit or council tax support, and lots more.
Councillor Liz Little, Cabinet Member for Corporate & Customer Services, Revenues & Benefits, said:
"In our 24-hour society, and as more of us pay our bills and interact with service providers online, we wanted to offer quick and simple ways for our residents to do more on our website. The digital services web page takes you through to a number of forms that are easy to fill in that will save you time, and we hope our residents will go to www.lichfielddc.gov.uk/digitalservices to see what they can do."
The council's website www.lichfielddc.gov.uk also has many ways to save time through its 'pay for it', 'apply for it', 'report it', and 'voice it' buttons. You can click on these to pay for items such as a car park season ticket or a planning application, apply for an assisted bin collection or a single person council tax discount, report dog fouling or a missed bin, or get involved in local consultations through Voice It and much more.
"I would really encourage Lichfield District residents to visit our website to find out all they can do online," continued Cllr Little.