World Café event in Chasetown focuses on youth anti-social behaviour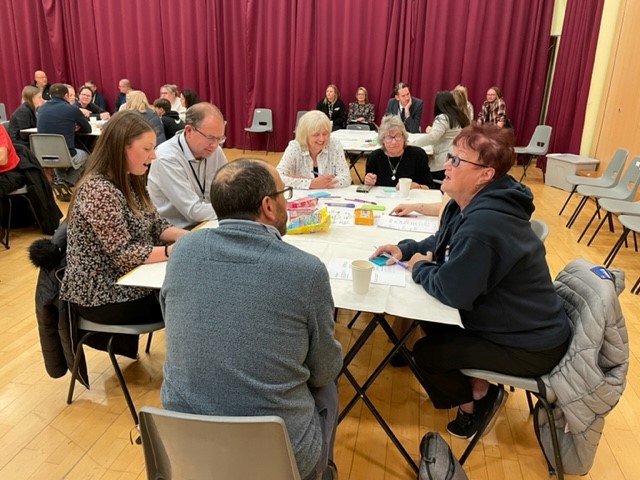 Youth anti-social behaviour was the focus of a special event held in Chasetown recently.
Representatives from Lichfield District Council, Staffordshire Police and local agencies met with members of the community to discuss the reasons behind anti-social behaviour in the Burntwood area and how it can be reduced with a view to identifying opportunities to provide more activities for young people there.
The event, held at Erasmus Darwin Academy on Tuesday 1 November, was conducted on the World Café workshop model which sees participants explore issues in small table groups.
Anti-social behaviour was discussed by more than 40 attendees and the information collated will now be examined to identify the best approach to take while ensuring that all relevant partners work together to address issues of concern to Burntwood residents.
Yvonne James, Principal Community Safety Officer at Lichfield District Council, said:
"The World Café was a fantastic opportunity for the community and services to get together and discuss openly concerns regarding anti-social behaviour in Burntwood.

"Victims were able to have their voices heard, they spoke to relevant services in the area and all in all the community came together to solve a problem together.

"Rest assured we will now go through all the information and suggestions from the event and work at putting things in place to reduce the levels of anti-social behaviour."
Burntwood and Chasetown PCSO Leon Worden said of the event:
"I was pleased and grateful to see so many people from the local community and partner organisations come to discuss issues around youth anti-social behaviour and share ideas and thoughts with many agencies for the area.

"As a PCSO in Burntwood and Chasetown, I was always passionate about looking at ways to help and work with young people to tackle anti-social behaviour and improve activities and provision for them in the Burntwood area.

"I have since moved on from the area, but I have every confidence that those in attendance will be keen to push ideas forward and Lichfield Police will be keen to support initiatives there in the future."
Councillor Richard Cox, Lichfield District Council's Cabinet Member for Community Engagement, said:
"I'd like to thank Lichfield Police, especially PCSO Leon Worden for arranging the World Café in Burntwood and thanks also to the Erasmus Darwin Academy for hosting this event.

"It was great to see so many community groups and members of the public coming together by participating and sharing their thoughts on the issue of anti-social behaviour across Burntwood.

"Working in partnership with the police and the community to resolve the current anti-social behaviour taking place can only be a positive move and I look forward to seeing the outcomes of the session in due course."
For more information visit the Active Lichfield website.