Tackling environmental crime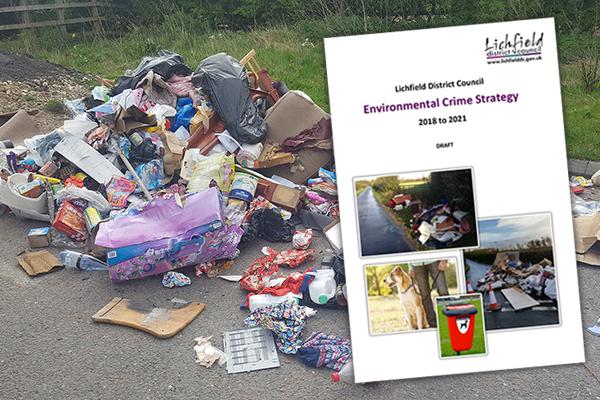 Lichfield District Council has published a draft Environmental Crime Strategy and is now asking if it will help keep Lichfield District spick and span.
Having a clean and tidy district is really important to local people and residents, and Lichfield District Council works to keep the district free of litter, fly-tipping and dog fouling.
To illustrate how the council will tackle environmental crime and how it will aim to deter offenders, the local authority has put together a draft Environmental Crime Strategy that will run from 2018 to 2021.
The strategy focuses on educating the public about how everyone can help the council to tackle environmental crimes. It also sets out how the local authority will use its powers to enforce the law, taking a zero tolerance approach to the offenders.
Councillor Ashley Yeates, Cabinet Member for Regulatory Services, Housing & Wellbeing, said:
"Our aim is to cut the amount of environmental crime across the district, which in turn will reduce our clean-up costs which could be better spent on providing other key services.

"In reality, the people who commit environmental crimes are in the minority, and individuals can be responsible for a great deal of the problems, and we need to target these people and get local communities engaged in helping us.

"The draft strategy sets out how we will do this, and we now need local people to give us their views to make sure we are focussing on the right areas."
To read and comment on the draft Environmental Crime Strategy, go to www.lichfielddc.gov.uk/envirocrime.
Please email your comments to pollution@lichfielddc.gov.uk or send them through the post to: Environmental Health, District Council House, Frog Lane, Lichfield, Staffordshire WS13 6ZE by 5pm on Thursday 1 November 2018.