Suspended sentence for prolific fly-tipper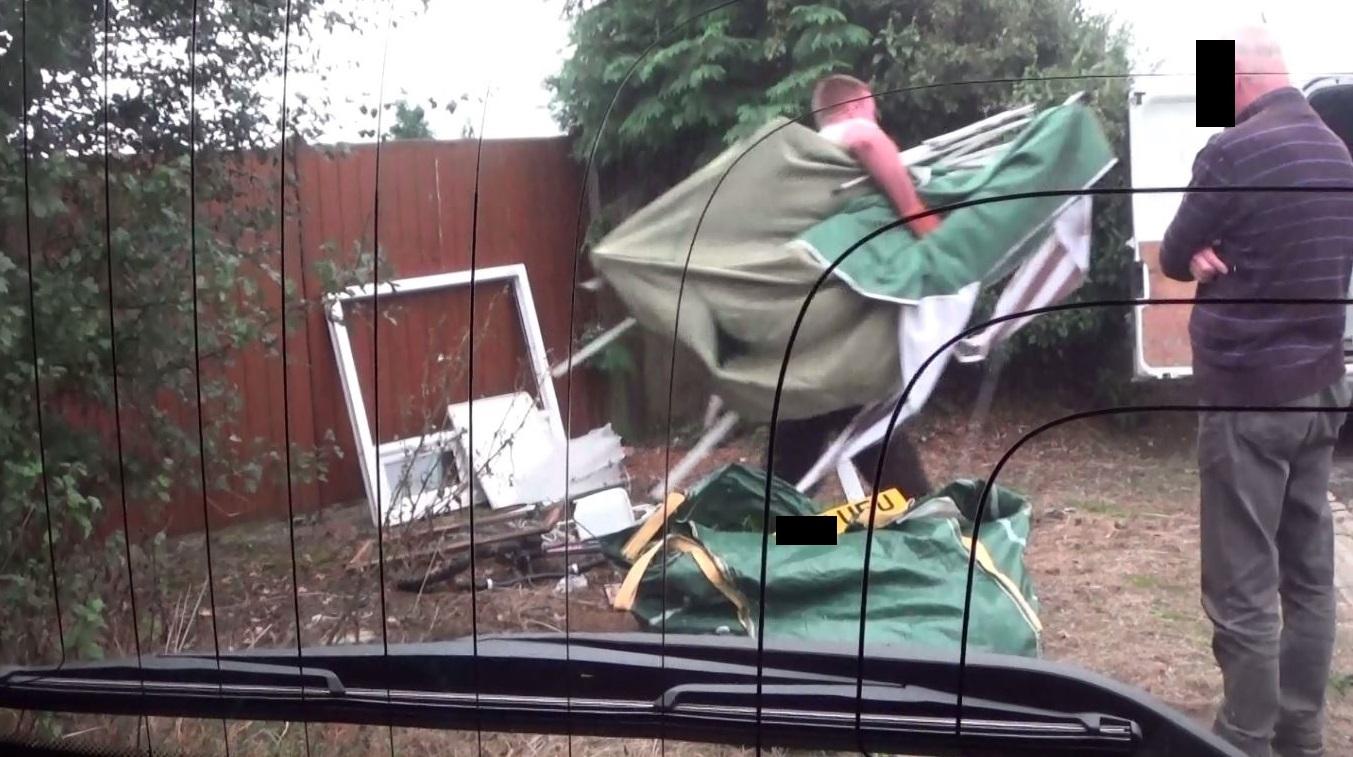 After pleading guilty to five charges of fly-tipping across three areas, including in Lichfield District, a man has been sentenced at Nuneaton Magistrates' Court.
On Tuesday 31 July, 29-year-old Mr Roeg Wadham, from Clifton Campville near Tamworth, attended Nuneaton Magistrates' Court and pleaded guilty to five charges of fly-tipping across three local authority areas.
The court heard that members of the public had paid Mr Wadham to remove significant amounts of waste from their properties, which was later discovered fly-tipped at various locations in Lichfield District, North Warwickshire and Tamworth Borough.
As part of the joint investigation, officers from Lichfield District Council carried out two 'test purchases', filming Mr Wadham removing waste which was later found dumped close by.
The court stated that Mr Wadham's actions were pre-determined and organised. Due to the significant amount of waste left in such rural locations, the court indicated that it passed the custody threshold, but adjourned sentencing until Tuesday 21 August.
At sentencing, the court emphasised the seriousness of the offences and imposed 10 weeks in custody for each offence – a total of 50 weeks' imprisonment, suspended for 12 months on the basis Mr Wadham fully co-operates with the Probation Service and fulfils the requirements of a community order.
The court also imposed a criminal behaviour order prohibiting Mr Wadham from engaging in waste disposal activities for three years and a financial penalty of £2,684, reflecting partial clean up and legal costs, and a victim surcharge of £115 – a total of £2,799.
Councillor Ashley Yeates, Cabinet Member for Regulatory Services, Housing & Wellbeing, said:
"Although the 50 weeks' imprisonment has been suspended, we are pleased the court has imposed a custodial sentence and this case will cost Mr Wadham significantly more than the money he made by carrying out the offences.

"It will act as a warning to all the rogue traders out there who continue to charge for waste services, but then illegally fly-tip rubbish in rural places, blighting the landscape and costing tax payers' money to clean it up.

"Working as part of this joint prosecution has meant that we could show just how much time and damage one business can do, and we hope his sentence will make Mr Wadham change his ways."
Fly tipping is a serious crime and anyone caught could get an unlimited fine and/or a prison sentence.
Householders have a duty of care over any waste they produce. If waste is later found fly-tipped and traced back to you, you could be prosecuted. Be particularly careful with cold callers at your door or offers on social media to remove any waste for cash.