Visit Lichfield campaign goes across region and beyond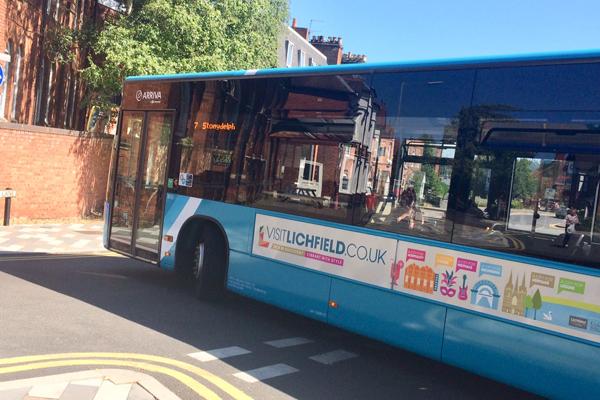 Thousands of people travelling by road, rail or plane this summer will have seen the Visit Lichfield advertising campaign.
In partnership with Lichfield BID, Lichfield District Council launched its new look tourism brand, Visit Lichfield, in June.
As part of the rebrand, a series of adverts have been running over the summer at high footfall areas around the UK, to raise the profile of Lichfield as a fabulous visitor destination.
Adverts have been on display at Birmingham Airport, the NEC, at various railway stations along the West Coast Mainline between Liverpool and London Euston, on trains that run on the local cross city line and on the side, and on buses that travel through the East and West Midlands.
The brand was developed after Lichfield City Centre Development Partnership, which includes representatives from Lichfield District Council, Lichfield BID, Lichfield Cathedral and other local organisations and venues, decided to raise the profile of Lichfield as a tourism destination to a regional and national audience.
The advertisements showcase Lichfield as a multi-faceted city, under six themes: a city for heritage, culture, leisure, festivals, browsing and hospitality.
Councillor Ian Pritchard, Cabinet Member for Economic Growth, Environment & Development Services, said:
"It's exciting to think that so many people who are travelling round the region and beyond have seen the Visit Lichfield adverts. We hope it will encourage more people to discover all that Lichfield and the district beyond has to offer."

Paul Maddox, Chairman of Lichfield Business Improvement District (BID), added: "It's one of the BID's core aims to highlight Lichfield to a wider audience to ensure that even more people find their way here.

"From the festivals, parks, restaurants, cultural offering, shops and historic venues, we're so lucky with all that we have to offer in Lichfield, and the adverts show just how vibrant and exciting the city is."
To find out more about Visit Lichfield, go to www.visitlichfield.co.uk and to find out more about Lichfield BID visit www.lichfieldbid.co.uk.