Lichfield District Investment Prospectus launches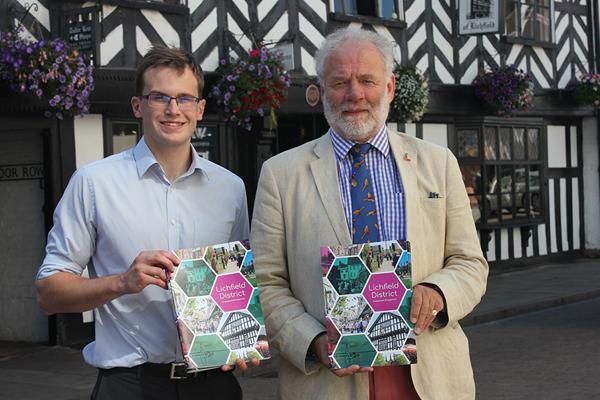 Investment Prospectus showcases what the local area has to offer businesses to encourage them to invest or locate to the district.
As part of its aim to promote investment opportunities to a wider audience, Lichfield District Council has produced an Investment Prospectus.
It illustrates why the district is such a good base for businesses - from its central location and excellent transport links, to its highly skilled workforce and its bustling city and town centres.
The prospectus features information on key development sites, including Burntwood Business Park, Lichfield South Business Park, Liberty Park, Prologis Park, Fradley Park, as well as opportunities for investment, such as the former GKN site on Trent Valley Road and land at Cricket Lane in Lichfield.
Councillor Ian Pritchard, Cabinet Member for Economic Growth, Environment & Development Services, said:
"I am delighted to launch the Investment Prospectus, which will help us to promote all that we have to offer the business community. From our strong new business survival rate, through to our development and investment opportunities, in the prospectus we illustrate why companies across the country and beyond should settle their businesses in the heart of England and make Lichfield district their home."
The Lichfield District Investment Prospectus is available to download at www.lichfielddc.gov.uk/investmentprospectus.
The council will share the prospectus with strategic partners within the Greater Birmingham & Solihull and the Stoke & Staffordshire Local Enterprise Partnership areas. Copies will also be sent to commercial agents to share with their contacts, as well as developers, businesses and investors who are looking to expand within the West Midlands.
To discuss the prospectus and other investment opportunities in Lichfield District, email invest@lichfielddc.gov.uk.