The new Visit Lichfield branding is unveiled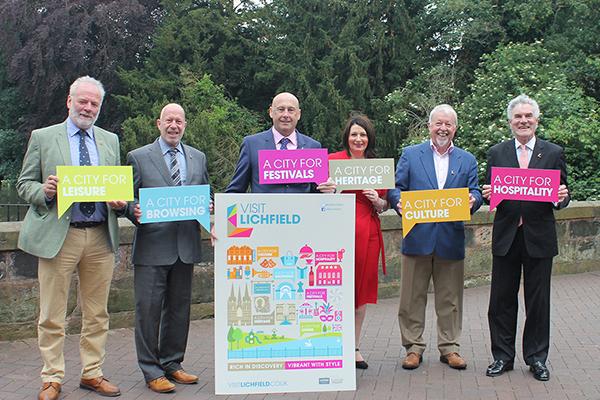 On Friday 15 June 2018, tourism partners gathered in Lichfield for the unveiling of the new Visit Lichfield branding and marketing campaign.
Lichfield District Council, working in partnership with Lichfield BID and the Lichfield City Centre Partnership, has launched its new look tourism brand, Visit Lichfield.
At the launch event, Lichfield shoppers and visitors got to see the new colourful logo and the adverts that will run at high footfall areas around the UK, to raise the profile of Lichfield as a fabulous visitor destination.
Lichfield will be promoted through a series of adverts that will appear at Birmingham Airport and at the NEC. The adverts are also set to run at various railway stations along the West Coast Mainline between Liverpool and London Euston, on cross city line trains, and on the side and back of buses that travel throughout the East and West Midlands.
The updated brand was developed after Lichfield City Centre Development Partnership, which includes representatives from Lichfield District Council, Lichfield BID, Lichfield Cathedral and other local organisations and venues, decided that it wanted to raise the profile of Lichfield as a tourism destination to a regional and national audience with an new, eye-catching look.
The new branding showcases Lichfield as a multi-faceted city, under six themes: a city for heritage, culture, leisure, festivals, browsing and hospitality.
Councillor Ian Pritchard, Cabinet Member for Economic Growth, Environment & Development Services, said:
"I am delighted to help launch this stylish and modern branding and advertising campaign. It will give Visit Lichfield a new lease of life and we are confident that many more people will find their way to our beautiful district, helping to boost our local economy."
Throughout the launch event, the Visit Lichfield team were on hand at a promotional stand in Three Spires Shopping Centre, and around 50 people signed up to receive the council's Visit Lichfield monthly e-newsletter, which has news of what's going on in and around Lichfield District, as well as promoting local offers.
Everyone who signed up to the newsletter on the day got the chance to enter a prize draw and had the chance of winning a range of prizes, kindly offered by local hotels, venues and shops.
From a Clarins gift pack from Debenhams and a Yankee candle from Smart Ideas, through to an overnight stay at The George Hotel for two and free guided tours and much more, there were nearly 40 prizes up for grabs. The team also offered freebies on the day, including balloons and pens.
Paul Maddox, Chairman of Lichfield Business Improvement District (BID), commented:
"It's great to see the brand launched and I look forward to seeing the high profile advertising campaign. We were happy to help fund the brand redesign and advertising campaign as we know that if we can get our message out and show a wider audience what we have to offer visitors, we will boost footfall to our attractions, eateries, shops and hotels."
Three Spires Centre Manager, Lisa Prokopiou, added:
"Visit Lichfield is a wonderful group, and I'm delighted that we've been able to support the launch of their new brand. We have a fantastic city and this new brand will continue the great work from everyone at Lichfield District Council, Lichfield BID and the Lichfield City Centre Partnership in showcasing the best that is on offer here. The response to the launch in the Three Spires Shopping Centre was great and I'm looking forward to seeing Visit Lichfield continue to grow over the coming weeks, months and years."
Find out more about all that Lichfield District has to offer at www.visitlichfield.co.uk.