Advice on common works to a home
Solar panels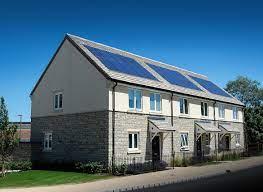 You should consider the following factors when deciding if you want to install solar panels on your property:
Do you live in a conservation area or in a listed building? You might need planning permission to install solar panels.
What direction does the roof slope face? South-facing roof slopes offer the best opportunity to benefit from solar energy, but east and west-facing roof slopes can also generate a good amount of electricity for your home. It is not advised to install panels on a north-facing roof due to the lack of sunlight.
Is there anything which might block the access of light to the roof slope, for example, a large tree or a nearby building? This could limit the amount of energy that can be generated by the panels.
What is the pitch of the roof? The ideal roof pitch angle is between 30 to 40°. If you want to install panels to a flat roof, you might require planning permission.
What is the roof material? Solar panels cannot be installed on a glass roof, but most other materials are appropriate.
View the relevant legislation about whether planning permission is required for domestic solar panels.