Reminder for gardeners to sign up for garden waste service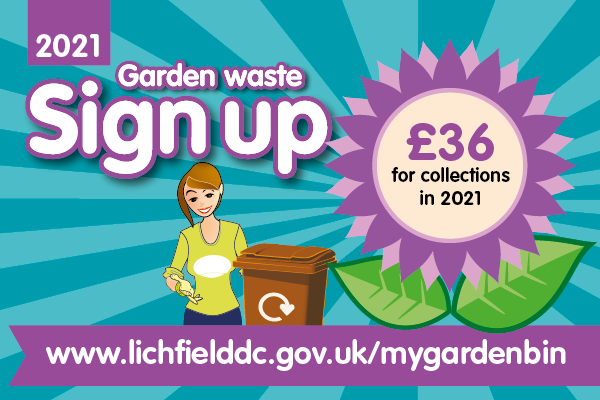 With brown bin collections resuming this week, keen gardeners across Lichfield District are being reminded they need to sign up for the garden waste service to make sure they don't miss out.
Thousands of local households have already signed up to service, which sees grass clippings, hedge cuttings, leaves, weeds, shrub trimmings, as well as short branches and twigs recycled.
All brown bin waste is composted, which is good for the environment and can save time consuming trips to local household recycling centres.
2020's prices have been held and it will continue to cost £36 per garden waste bin for fortnightly collections this year, which works out at around £1.56 for each bin collection.
Councillor Richard Cox, Cabinet Member responsible for Waste, said:
"I'd like to thank everyone who has already signed up to this year's garden waste service. Subscribing costs the same regardless of when you sign up, so it makes sense to register as soon as possible."
A year's subscription includes 23 garden waste collections between February and mid-December.
Sign up for the garden waste service by completing a quick online form or call Lichfield and Tamworth Shared Waste Service on 0345 002 0022.