Knife Angel sculpture is coming to Lichfield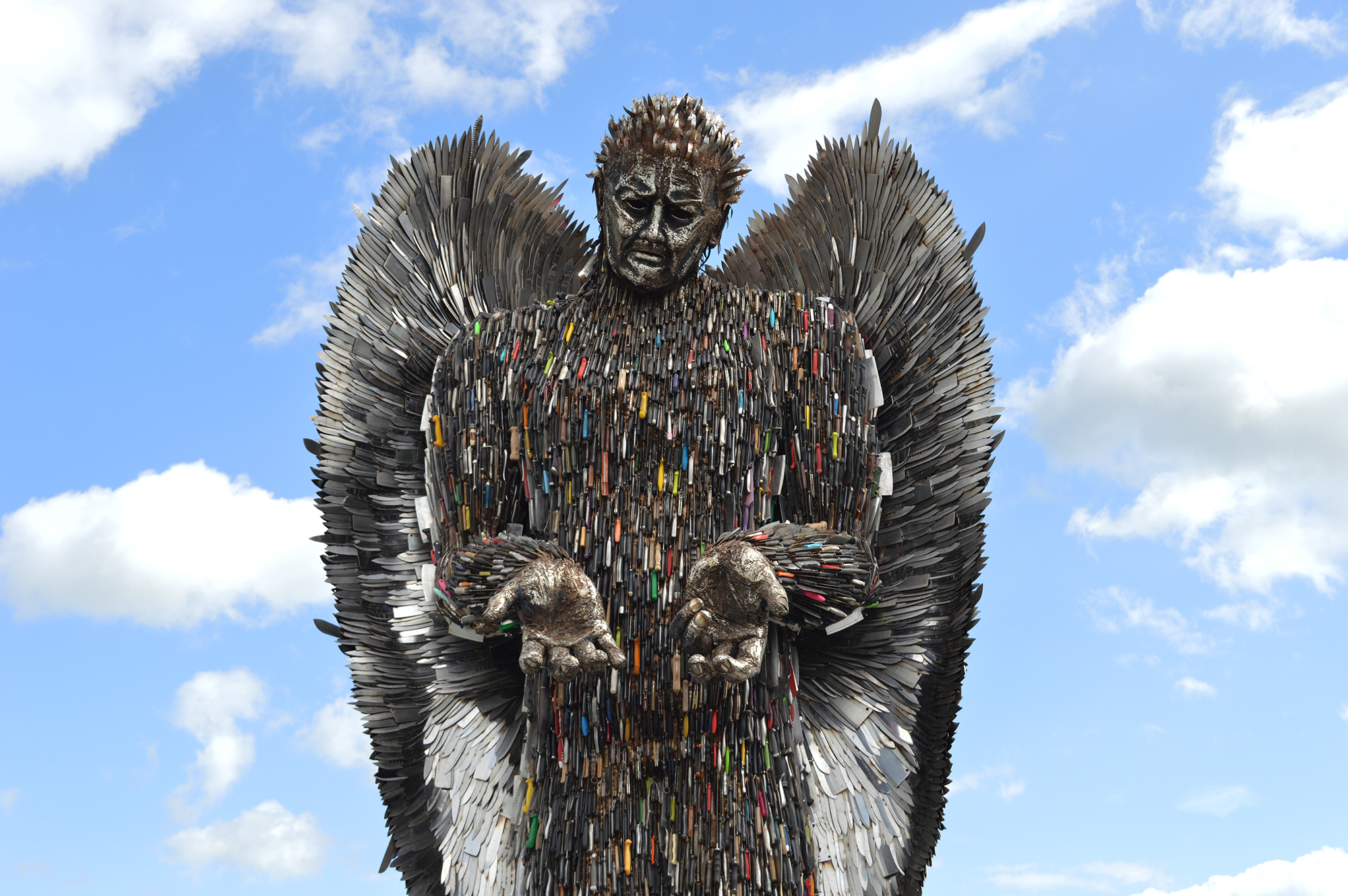 The Knife Angel is coming to Lichfield in July as part of a campaign to raise awareness in the district of the dangers of knife crime.
This iconic sculpture, which is made of 100,000 seized blades collected by 42 police constabularies across the country, is 27 feet high and will be situated for people to see on the open space adjacent to District Council House in Frog Lane.
Sculptor Alfie Bradley completed the Knife Angel in 2018, working in conjunction with the British Ironwork Centre to create a poignant memorial to those who have lost their lives to the violent use of a blade.
Its presence in Lichfield, from Saturday 1 July to Monday 31 July, will be complemented by a programme of education and awareness activities together with the opportunity to relinquish knives in special bins located around the district.
Yvonne James, Lichfield District Council's Principal Community Safety Officer, said:
"Lichfield District is one of the safest places to live in Staffordshire in terms of incidents of knife crime and violence.

"However, we cannot ignore the fact that they are increasing nationally with the Office for National Statistics stating that in 2021/22 the neighbouring West Midlands Police Force recorded the highest rate of 152 offences involving a knife per 100,000 of population.

"We need to do everything we can to alert people to the dangers."
Lichfield District Council's Cabinet Member for Community Engagement, Councillor Richard Cox said:
"The Knife Angel is visually extremely striking and thought-provoking.

"Our aim is to prevent people from carrying knives through education, by explaining how lives can be destroyed and I hope many residents from across Lichfield District, neighbouring boroughs and districts throughout the Midlands will come and see it and help raise awareness."
Chief Inspector Matthew Morgan, from the Lichfield Local Policing Team (LPT), said:
"We are committed to tackling knife crime in Staffordshire and supporting local initiatives like the Knife Angel.

"The education and engagement activities organised encourage open and honest discussions about knife crime. We also need parents to speak to children about the issues, about their thoughts around it and explain the consequences of carrying a knife.

"I would encourage residents of Lichfield and the surrounding area to come and see the Knife Angel, engage with officers and our partners and give a little time to reflect upon what they see and hear, in what is a really thought-provoking subject."
Clive Knowles, Chairman of British Ironwork Centre, said:
"Young people have a fantastic opportunity to become Anti Violence Champions for their communities and nation - certificates will be available during the Angel's stay in Lichfield."