Special event will launch Knife Angel's month-long visit to Lichfield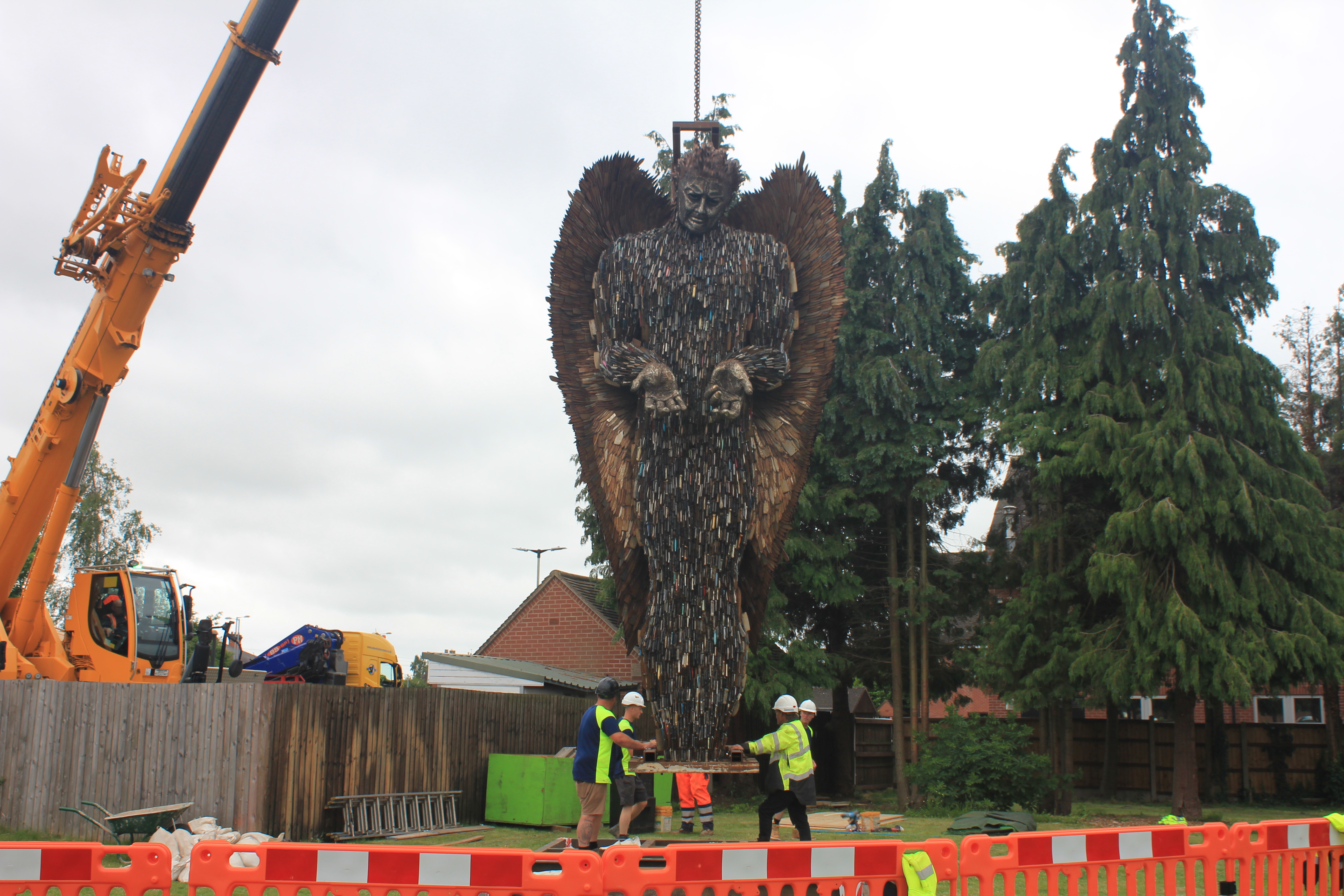 A stunning sculpture made from 100,000 blades collected by the police nationwide has arrived in Lichfield today as part of a campaign to raise awareness of knife crime.
The district's residents are encouraged to come and see the iconic 27 ft tall Knife Angel which will be launched tomorrow Saturday, 1 July, at 10am and is situated on open space next to District Council House in Frog Lane for the month.
Completed in 2018 by sculptor Alfie Bradley in conjunction with the British Ironwork Centre, the sculpture is a poignant tribute to people who have lost their lives to the violent use of a blade.
The sculpture's owner Clive Knowles and anti-violence campaigners will be speaking to the public at the launch and the Leader of Lichfield District Council, Councillor Doug Pullen, is presenting them with awards in recognition of their efforts to reduce knife crime.
Funding for the Knife Angel has come from the Locality Deal Fund, provided by Staffordshire Commissioner for Police, Fire and Rescue and Crime Ben Adams, which Lichfield District Community Safety Partnership has allocated to the initiative.
On Saturday his Deputy, Helen Fisher, will be in attendance along with the Deputy Lord Lieutenant of Staffordshire James Leavesley.
Clive Knowles will present a Knife Angel plaque to Lichfield District Council's Cabinet Member for Community Engagement Councillor Richard Cox and an award to Staffordshire's Commissioner for Police, Fire and Rescue and Crime to recognise his work against violence and knife crime. Deputy Commissioner Helen Fisher is receiving the award on behalf of Commissioner Ben Adams.
An 11-year-old rapper, Harvster, will also be at the launch delivering his own special take on the dangers of knife crime.
The sculpture is coming here to raise awareness and educate and it's backed by a month of activities that have been scheduled to take place on the Frog Lane site and across the district.
These include first aid training, the installation of a new defibrillator in the city and Knife Bins - where blades can be deposited – sited at four locations: Tesco Extra and Morrisons in Lichfield, Morrisons in Burntwood and Burntwood Leisure Centre.
Lichfield District Council's Principal Community Safety Officer Yvonne James said:
"We are delighted to be welcoming the iconic Knife Angel to Lichfield on Saturday.

"It is an important mobile sculpture travelling around the country to support a national campaign against violence and aggression.

"Compared with many towns and cities across the country Lichfield has relatively low levels of reported violence and knife crime but we must not become complacent.

"There has been a national increase in offences, and it is imperative that we do all we can to educate, raise awareness and help protect our residents, children and visitors to the district."
Lichfield District Council's Cabinet Member for Community Engagement, Councillor Richard Cox, said:
"I am hoping as many people as possible come along to see the Knife Angel in July.

"It is stunning piece of art conveying an extremely serious message. Knife attacks are horrific and all too often fatal and although Lichfield is the second lowest area in the county for knife crime we must be vigilant and take every opportunity to highlight the dangers."
Staffordshire Commissioner for Police, Fire & Rescue and Crime, Ben Adams, said:
"Having the Knife Angel in Lichfield provides us with an opportunity to engage in discussions about the impact knife crime has on communities.

"Preventing and reducing violence is a priority in my Police & Crime Plan and feeds into the work of the multi-agency Violence Reduction Alliance.

"Wherever the Knife Angel visits, it starts conversations and brings people together to help secure a better future for young people and the communities they live in.

"The statue is a poignant piece of art and while it will be located in Lichfield, I hope the whole county will benefit. I would encourage people from far and wide to come and see it in person."
Chief Inspector Matthew Morgan, from the Lichfield local policing team (LPT), said:
"We are committed to tackling knife crime in Staffordshire and supporting local initiatives like the Knife Angel.

"I would encourage residents of Lichfield and the surrounding area to come and see the Knife Angel, engage with officers and our partners and give a little time to reflect upon what they see and hear on what is a really thought-provoking subject.

"Alongside our own Ditch the Blade campaign, we hope that it will encourage people to stop and reflect about the devastating impacts knives can have on communities, and how we can all come together to show our young people that carrying a knife is not an acceptable or safe thing to do."
Refreshments will be available to purchase near the launch on Saturday from a serving window at Penni Uni Café on the ground floor of District Council House in Frog Lane from 10am to 3pm.
More information regarding the Knife Angel's visit to Lichfield is available online.