Lichfield bids farewell to the Knife Angel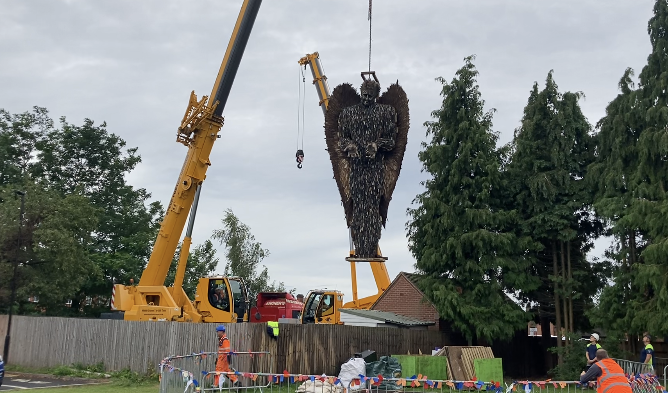 The iconic Knife Angel's visit to Lichfield has come to an end but its powerful message of anti-violence has been conveyed to many thousands of people.
The sculpture, owned by the British Ironworks Centre, and made from more than 100,000 blades collected by police constabularies across the UK, has been situated in Frog Lane throughout July.
Its purpose was to raise awareness of knife crime and honour those people who have lost their lives to the violent use of a blade and over the past month dozens of school parties have visited together with residents from the Lichfield District and people from across the UK supporting the local economy.
The Knife Angel campaign has been driven by Lichfield District Community Safety Partnership and, in addition to visits from more than 7,000 people, related initiatives include the installation of permanent knife bins – two in Burntwood and two in Lichfield, and the training of more than 100 people in the use of life-saving bleed kits.
The bins and bleed kits were provided through funding made available by Staffordshire Commissioner for Police, Fire and Rescue and Crime Ben Adams, which Lichfield District Community Safety Partnership then allocated.
The departure of the iconic Knife Angel from Lichfield (the sculpture was transported away this morning) was yesterday marked with a special presentation ceremony held in the Council Chamber in District Council House.
Lichfield District Council's Principal Community Safety Officer Yvonne James welcomed everyone present before Clive Knowles of The British Ironworks Centre, which owns the sculpture, applauded Lichfield District for hosting it.
Councillor Richard Cox, Lichfield District Council's Cabinet Member for Community Engagement highlighted the 'learning behind the sculpture' that has taken place and the interest it has generated.
He introduced Harvey, an 11-year-old rapper whose brilliant rhymes imploring people to 'ditch the blade' greatly impressed, and announced awards for supporting the Knife Angel project to Streetwhyze. The Training Initiative, Two Rivers School in Tamworth, Tesco, Morrisons, Burntwood Leisure Centre, B & M, Lichfield Cathedral, McDonalds, The Lichfield Garrick Theatre, Pathway Project, Natalie Quieroz MBE, Paula Reynolds and Mark and Beverley Brindley.
Natalie Quieroz was eight months pregnant when she was stabbed 24 times by her former partner in Sutton Coldfield in March 2016, Paula Reynolds' son Adam was stabbed across the face and neck when out in Liverpool just before Christmas 2014 and Mark and Beverley Brindley's son James was fatally stabbed in an unprovoked attack in Aldridge on June 2017.
The Deputy Lord Lieutenant of Staffordshire Johnny Leavesley thanked everyone in attendance before Natalie Quieroz and Paula Reynolds spoke of their experiences.
After the gathering in the Council Chamber, Clive Knowles led a procession from the Knife Angel to Lichfield Cathedral, stopping off in Market Street for the opening of a new defibrillator donated by the Henry Angell-James Memorial Trust. At the cathedral Interim Dean Jan McFarlane gave a blessing to the Knife Angel initiative.
Lichfield District Council's Principal Community Safety Officer Yvonne James said:
"The public's response has been amazing, it's been positive, and many have approached us on site and just said 'thanks so much for doing this as it's so important'.

"I have spoken to people who have lost loved ones to knife crime, I have met people who have children and fear for their safety, I have spoken to young people who say they want to feel safe when they don't.

"It is clear the national increase of knife crime and violence has affected everyone in different ways so although we have achieved so much in the last 4 weeks, we cannot stop now and we will need to continue to work together as a community, educate and challenge to keep our area as safe as we can.

"I would like to thank all who have been involved and supported this campaign, particularly the members of the Lichfield District Community Safety Partnership – we cannot achieve such success in isolation, only by working together."