Floating bird islands set sail at Stowe Pool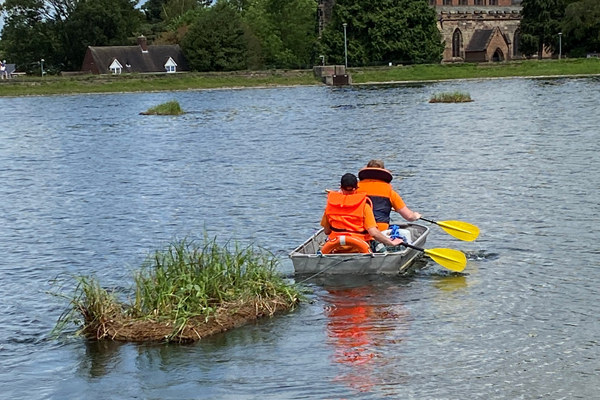 Wildfowl, including ducks, moorhens, geese and swans can now use an extra three floating islands that have been launched at Stowe Pool in Lichfield.
Lichfield District Council's parks team has installed three floating islands at Stowe Pool, which brings the pool's bird islands to six.
However, these three islands are different having been designed to boost biodiversity. As Stowe Pool is a reservoir the council is required to cut back plants growing around the water's edge. To offset the habitat loss, the council's ecology team recommended introducing the islands, which are living systems allowing plant roots to grow into specially designed floating grids.
Stowe Pool is also a Site of Special Scientific Interest, so plants were chosen that will be beneficial to native animals, such as white-clawed crayfish. They include purple loosestrife, flag iris, marsh marigold and reed and rush.
Like the three original islands, the new islands have been grouped together to represent the three spires of the neighbouring Lichfield Cathedral.
Councillor Iain Eadie, Cabinet Member responsible for Parks, said:
"I am delighted to see the new living islands in place at Stowe Pool.

"They will offer a safe haven for birds to nest, a point of interest for visitors to birdwatch, and will boost biodiversity in the area and be good for the environment.

"I'd like to thank our parks and ecology teams, as well as Lichfield Historic Parks Friends Group who've worked with us on this project."
Find out more about Stowe Pool.