Lichfield Community Lottery's cash boost for We Love Lichfield Fund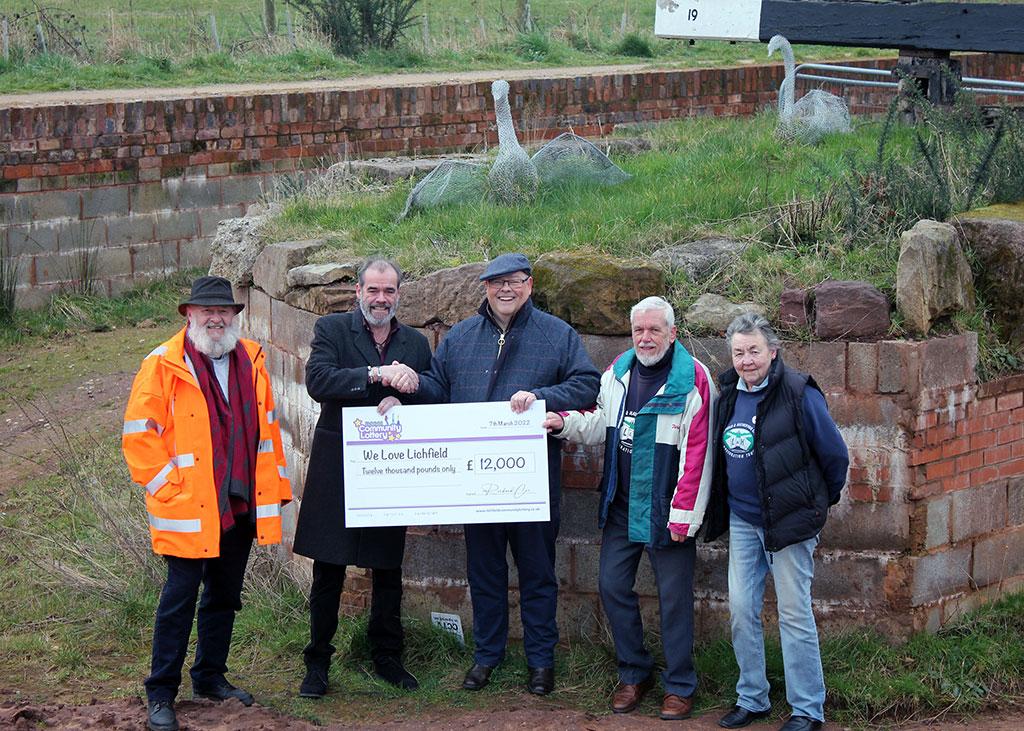 We Love Lichfield, which gives grants to good causes across the district, has received a bumper cheque from the Lichfield Community Lottery.
The weekly lottery was established by Lichfield District Council last year to generate funds for community groups and the cheque, for £12,000, was presented by Councillor Richard Cox, cabinet member for community to Simon Price on behalf of We Love Lichfield.
Joining them was Christine Bull, chair of Lichfield and Hatherton Canals Restoration Trust, which is Lichfield Community Lottery's most successful participant.
The trust has sold more lottery tickets than any other group generating £3,604 for itself.
The presentation took place in Lichfield on Monday off Falkland Road at the Fosseway Heath Nature Reserve which has been created by the trust as part of its work to restore the canal from Huddlesford to Ogley Junction at Brownhills.
Councillor Richard Cox said:
"Lichfield Community Lottery is a great way for local voluntary and community groups to raise funds and I am delighted that we now have an extra £12,000 to award to local groups who make a great difference to local communities across the district."
Simon Price of We Love Lichfield said:
"I'm delighted to receive this money from Lichfield Community Lottery and I'd like to congratulate all involved for making it such a success in its first year.

"It's great that the council is working with local voluntary groups like ours to make a difference across the district.

"I'd encourage everyone to play as our local organisations and people are direct beneficiaries.

"The team at We Love Lichfield will now be working hard to ensure the funds will be distributed to all the wonderful voluntary groups we have in the area."
Christine Bull of the Lichfield and Hatherton Canals Restoration Trust said:
"LHCRT is delighted to have been the most successful participant in the Community Lottery as it confirms just how much the community values what we are doing.

"We are equally delighted to have received £3,604 through the lottery.

"It's even more valuable to us as much of our funding is granted for specific projects, but we can use this 'unrestricted' funding to do the costly day-to-day materials purchasing and general running costs of keeping all of us as volunteers progressing the restoration for community, environmental and local economy benefit."
So far 56 good causes have signed up for Lichfield Community Lottery which sees 60p from every £1 ticket go to local good cause.
The £12,000 presented to We Love Lichfield has been raised from the Lottery Community Fund.
Applications are now being invited for this funding which will be awarded by We Love Lichfield, supported by the Community Foundation for Staffordshire.
Good causes can sign up to Lichfield Community Lottery.