New youth council gives district's young people a forum for discussion of issues that matter to them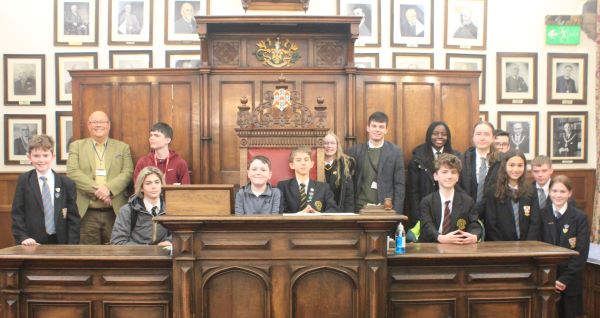 The inaugural meeting of Lichfield District Youth Council has been held attracting a host of young people all eager to make their views heard.
Some 30 new members joined the meeting at District Council House from Lichfield Cathedral School, Queen's Croft High School and King Edward VI High School in Lichfield and Erasmus Darwin Academy in Burntwood while a group from Chase Terrace Academy in Burntwood attended virtually.
Lichfield District Youth Council, which is taking place monthly, aims to empower its members to problem solve through consultation on decisions impacting young people. It will also help develop their debating skills, encourage the building of relationships and enable them to represent their school, peers and community.
Elections will be held every year with the process managed by participating schools, supported by Lichfield District Council officers, and the youth council is receiving £60,000 in funding over three years (£10,000 in 2022/3, £20,000 in 2023/4 and £30,000 in 2024/5) to support its development.
At the first meeting last Thursday, 26 January, the young councillors, aged 11 to 18, visited the Penni Uni Café, the Council Chamber and the Committee Room and were welcomed with an introduction to the youth council by Lichfield District Council's Chief Executive, Simon Fletcher and a presentation by Sean Turner of Staffordshire Council of Voluntary Youth Services.
Also present to establish connections with the youth council, were representatives of Liberty Jamboree – a charity offering inclusive activities to young people and Fun Club Hub – which offers youth provision in Burntwood.
During the meeting Tom Woods, of Erasmus Darwin Academy, was elected Chair of the council. He said:
"I am proud and honoured to be elected Chair of the Lichfield District Youth Council and excited that the voices of young people will be heard louder than ever."
Fellow councillor George Broadfield, of Erasmus Darwin Academy, added:
"I'm happy that the people of Erasmus Darwin Academy have voted for me to be on the Youth Council – I will listen to their views and share them equally."
Lichfield District Council's Cabinet Member for Community Engagement, Councillor Richard Cox, said:
"It was great to see so many young people from the participating schools from across Lichfield District attend the first Lichfield District Youth Council.

"The importance of the youth council will be to obtain the views of young people within the Lichfield District, that otherwise may go unheard within Lichfield District Council.

"It was an absolute pleasure to witness how positive the young people were engaged in the process of electing a Chair and their very open expressive discussions, raising the issues that they wish to bring forward onto their agenda. Their enthusiasm was clear to see and certainly bodes well for future meetings."
Councillor Cox wished to thank council officers Rhiannon Godley and Christine Lewis for their work in setting up LDYC, and for their continuing support, Kerry McCabe-Crowley and Liz Bacon from Fun Club Hub, who provided an entering ice-breaker session for the young people and Sean Turner of SCVYS for his presentation.