Lichfield District Council's Leader reaffirms authority's support for the Armed Forces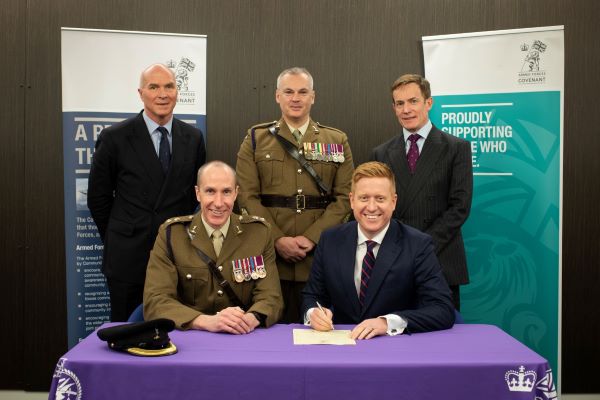 Lichfield District's commitment to Staffordshire's Armed Forces community has been reaffirmed with the signing of a formal agreement by the Leader of Lichfield District Council, Doug Pullen.
The Armed Forces Covenant is a promise that all serving and former members of the Armed Forces and their families are treated fairly and have the same access to public and commercial services as any other citizen.
On Thursday 16 February, Councillor Pullen joined the Leader of Staffordshire County Council Alan White, the Leaders of district and borough councils across the county and representatives of the military in signing the document.
Lichfield has strong and historic links with the Armed Forces being the home of the former Staffordshire Regiment and the national base, at Whittington, of the UK's Defence Medical Services which provides healthcare to more than 140,000 Regular Armed Forces personnel.
In addition, the 2021 Census reported that the percentage of Staffordshire residents that have previously served in the Armed Forces, at 4.2 per cent, exceeded the national average.
Signing the Armed Forces Covenant is an undertaking to promote the Armed Forces community and the role members play together with the skills and experience they bring to Staffordshire.
The Leader of Lichfield District Council, Councillor Doug Pullen, said:
"I am honoured to re-sign the Armed Forces Covenant. It is a commitment to ensuring members of the Armed Forces, past and present, are supported in Staffordshire and recognises the vital contribution they make to our society.

"Lichfield has a proud association with the Armed Forces stretching back more than 300 years and it continues to this day. We will do whatever we can to support and celebrate them in the district."