Nesting islands installed on Lichfield's Stowe Pool to support birdlife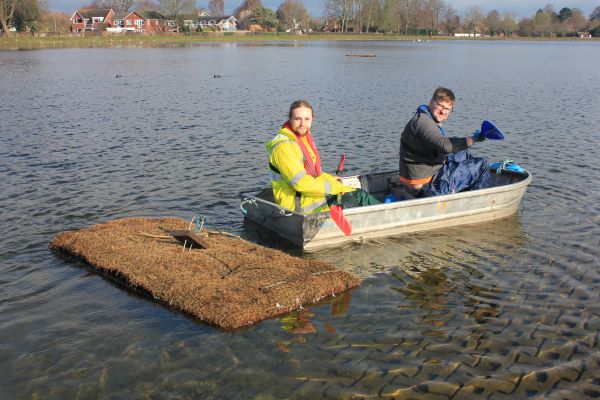 Lichfield District Council has installed new floating platforms on Stowe Pool to provide its water birds with a safe place to nest and breed.
Three new islands and three that have been reconditioned have been towed out and anchored in Stowe Pool by members of Lichfield District Council's Parks Team.
Each features organic matting and 32 aquatic plants including Soft Rush, Marsh Marigold, Blue Sedge, Water Mint and Reed Canary Grass.
The aim is to enhance the habitat for Stowe Pool's birdlife including Swans, Coots and Moorhens as well as providing a visual feature.
Other recent work at Stowe Pool includes the removal of trees between the pool and Stowe Road, to make it easier to locate any water leakages, and hedge-planting along the roadside. Volunteers assisted with this work last November.
In response to the recent LDC survey on health and wellbeing, residents asked for more water-based activities. So, alongside its work to enhance Stowe Pool as a wildlife habitat LDC is looking into whether the pool can be a venue over the summer months for paddleboarding and swimming.
In accordance with Stowe Pool's status as a nationally designated and protected site (A Site of Special Scientific Interest) no recreational activities will be permitted until a full nature assessment has been carried out.
Kristie Charlesworth, Lichfield District Council's Ecology and Climate Change Manager, said:
"It is difficult for the council to improve the biodiversity on Stowe Pool. As it is a decommissioned reservoir, we are limited with what we can do at the site - we cannot affect the brickwork or water flow and cannot plant anything on the sides of the pool.

"This is why we have arrived at the solution of floating 'biohaven' islands. Hopefully, these will establish successfully and provide a space for nature and waterfowl to nest."
Councillor Angela Lax, Cabinet Member for Housing, Ecology and Climate Change, said:
"The islands are an important feature of Stowe Pool, helping a variety of wildlife to flourish.

"The coppice clearance and hedge-planting are helping to maintain the area for everyone to enjoy."