District Council House welcomes new commercial tenants to offset the cost of the building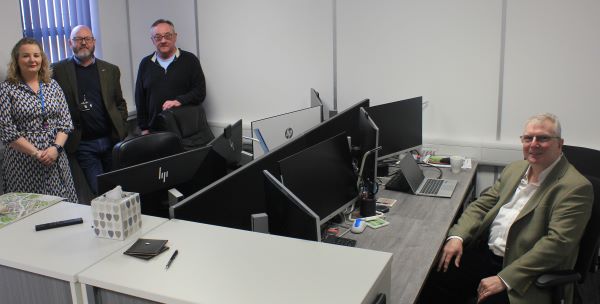 Lichfield's District Council House is fast becoming a vibrant centre for business with a wide variety of companies relocating to new offices in the city centre building.
Attracted by excellent facilities and its central location, companies have taken up tenancies in the fully-serviced office accommodation following a comprehensive remodelling of the building's interior.
The first two phases have seen 11 tenants occupy offices on the ground floor of the building in Frog Lane, the redevelopment paid for with a £353,000 grant from the UK Shared Prosperity Fund for the creation of office space for small businesses.
The next phase, funded by a further £300,000 from UKSPF will create 9 new offices on the first floor of the building. Negotiations are progressing with prospective tenants for 7 of these.
Remote working during Covid and the introduction of hybrid working in its wake meant occupancy of District Council House fell to 30 per cent.
It was decided to convert much of the disused office space into a business centre and encourage businesses to relocate to it.
Lichfield District Council's Director of Operations/Property Services and Estates Manager, Andrew Rowbotham, said:
"Making space available for businesses in District Council House has been very well received. Companies want high quality, centrally located office accommodation.

"It's also prudent. DCH costs £250K a year on average to run – the rent tenants are paying is offsetting the running costs of District Council House.

"I think what we are doing with the building is paving the way for other local authorities as to how they view their headquarters and what can be achieved."
Lichfield District Council is reviewing its other assets. Venture House on Davidson Road has recently been sold for just under £1million, £850K of which is being used to fund the new leisure centre at Stychbrook Park.
Among the businesses happily operating from District Council House are Breslins Chartered Accountants and In-Form Solutions Ltd.
Ian Gardner, Director, Breslins Lichfield Ltd said:
"I head up the Lichfield office of Breslins Chartered Accountants and we already knew what a great place Lichfield is to do business, having been established in the region for some 30 years.

"Since moving to the Business Hub at Lichfield DCH our own business has grown significantly as we have taken on more small business clients looking to grow in Lichfield and District, whilst employing additional experienced and expert staff ourselves.

"The office space, kitchen facilities, meeting rooms and on-site café within the Business Hub at Lichfield DCH are all excellent but what really stands out is the friendly approach, enthusiasm and professionalism of the staff at all levels right through to the senior management team.

"Breslins is delighted to be part of a truly supportive and dynamic business community which is being nurtured by LDC. We are happy to recommend the Business Hub at Lichfield DCH to all our clients and connections looking for space to grow alongside like-minded business-owners."
John Griffiths. Managing Director of In-Form Solutions Ltd said: "In-Form Solutions provide a wide variety of consultancy services to the NHS, local and central government, and overseas.
"As we provide services to the public sector, we need a secure and robust environment to work, communicate and store information. We have successfully acquired Cyber Essentials Plus and NHS Data Security Digital Toolkit accreditation as well as ISO9001 (Quality) and ISO14001 (Environmental) standards, all being externally assessed.

"Lichfield DC provides not only a lovely environment to work from with excellent office facilities, but also a robust and secure infrastructure to enable us to provide our business activities."