New play equipment at Burntwood Leisure Centre is delivered through councils' partnership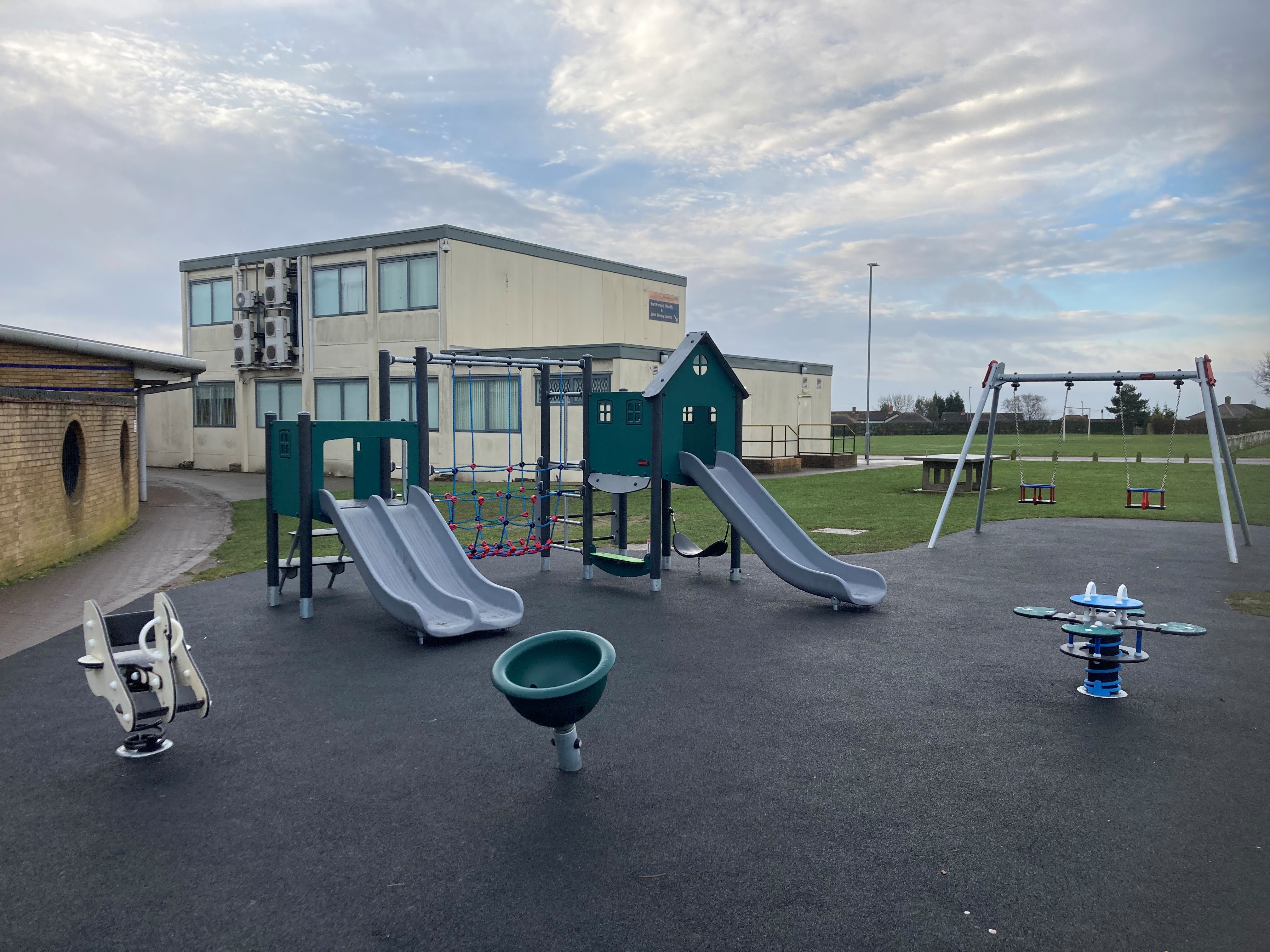 Children visiting Burntwood Leisure Centre are enjoying brand-new outdoor play equipment after Lichfield District Council and Burntwood Town Council joined forces to provide it.
The play park, which sits adjacent to the leisure centre off High Street, Chasetown now features a double tower with rope bridge and slides, cradle swings, a swan springer, spinner bowl and crazy daisy all surrounded by a rubber floor surface.
Replacing outdated items at the site, the new equipment, made predominantly from recycled materials, were funded through a budget of more than £34,000 made up of £22,000 from developer contributions to Lichfield District Council, £10,000 from Burntwood Town Council and £2,500 from Freedom Leisure.
The budget not only enabled equipment to be replaced but also for extra pieces to be added.
Lichfield District Council's Cabinet Member for Leisure, Parks, Waste and Recycling, Councillor Andy Smith, said:
"I am delighted with the new equipment which is designed to be inclusive, including features for children with autism and disabilities.

"I would like to take this opportunity to thank Burntwood Town Council and Freedom Leisure for their support and contribution to the cost.

"I very much hope children enjoy playing on the new items at the park."
Councillor Darren Ennis, Deputy Leader at Burntwood Town Council and Town and District Councillor for Chasetown said:
"It is excellent to see a new and improved park at Burntwood Leisure Centre. It's a vast improvement and long overdue.

"This shows that the partnership work via the town deal meetings with Burntwood Town Council and Lichfield District Council can achieve some amazing things when we work together for the betterment of the area.

"We are very happy that this facility is now open for the use of the residents and users of the leisure centre, it's a great new asset for the area."
Paul Greenfield, Area Sales Manager for Kompan, which supplied the equipment, said:
"We are delighted to have provided a new play area constructed from our Made Green recycled range. "Through using sustainable materials, we can reduce our co2 omissions during manufacture considerably.

"For example, the panels on the double tower are made from 100 per cent post-consumer ocean recycled waste such as fishing nets, ropes and trawl nets.

"The posts are made from recycled textile and plastic waste, and the tower decks consist of 75 per cent ocean waste. The smaller items such as the springers and spinner consist of between 25 per cent to 80 per cent of ocean recycled waste also.

"All our products are verified and certified by a third party to guarantee the materials we use greatly reduce the impact upon climate change.

"It feels extra special to know that LDC has already invested in making the leisure centre more eco–friendly so this feels like we have put the icing on the cake for a great community resource."