Lichfield District Council's environmental champion declared national 'rising star', at prestigious awards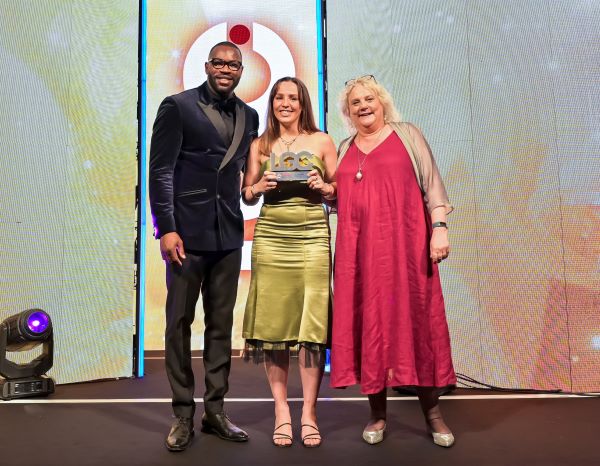 Lichfield District Council is celebrating after one of its talented officers won a prestigious national award.
Ecology and Climate Change Manager, Kristie Charlesworth, scooped the 'Rising Star Award' at the LGC (Local Government Chronicle) Awards 2023 which celebrated the achievements of officers and politicians in local government at London's Grosvenor House hotel on Thursday 8 June.
She was among 1,200 local authority professionals to attend the gala occasion after being shortlisted back in March.
An expert in environmental issues Kristie is committed to delivering policies and initiatives which protect Lichfield District's ecology and green spaces. She has worked in local government for just five years but drives her team to meet the council's pledges for climate change, carbon reduction and nature recovery, delivers training and works with partners at every level from central government to local community organisations.
She also advises other authorities on biodiversity net gain, helps ensure sustainable development and manages conservation programmes to improve wildlife habitats.
The award, presented by Sports pundit and former rugby union player, Ugo Monye, recognises Kristie's considerable achievements in the early stages of her career.
The LGC Awards judges said:
"Kristie is a local government professional with passion, energy, commitment and vision for her area of specialism (ecology and the environment), and for people and public service more widely.

"Her work delivers innovation and ideas by the bucket load, helping to put her council on the map, and she is always seeking ways to share her knowledge and learning both locally and on a national stage.

"She also invests time in networking and making connections to have a real impact, including through her work with a number of professional networks and staff groups where she uses her own experiences to champion staff wellbeing and belonging. Kristie is a worthy winner of this year's 'Rising Star' category."
Lichfield District Council's Chief Executive Simon Fletcher said:
"I am absolutely delighted for Kristie and very proud of her achievement.

"Kristie's award is thoroughly deserved. She is a fantastic officer with abundant enthusiasm to match her expert knowledge.

"I am also proud of the area of work for which she has been recognised as we are streets ahead of legislation and our sector when it comes to biodiversity net gain in Lichfield District.

"Being declared the Rising Star at these national awards is a testament to her professionalism and commitment. Congratulations Kristie."