Introducing "Voices from Lichfield District": A Podcast for Young Minds, by Young Minds and launching a competition for music makers everywhere!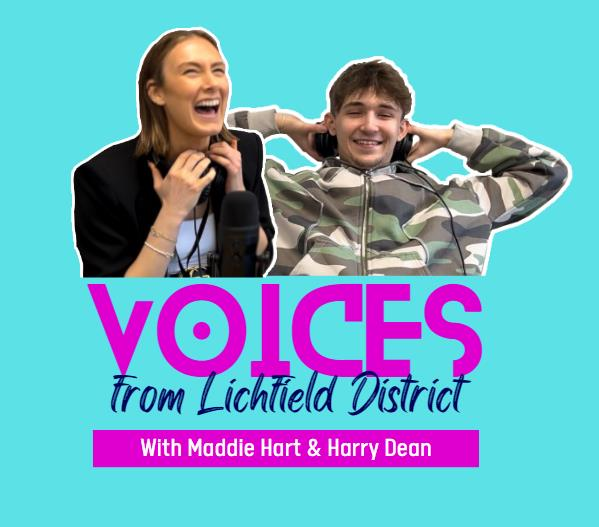 Lichfield District Council is thrilled to launch the trial of a brand-new podcast designed exclusively for the engaging and inquisitive minds of young people aged 16 to 30.
"Voices from Lichfield District," hosted by dynamic duo Maddison Hart and Harry Dean and produced by George Beesley of Lichfield District Council will cover an array of topics that matter most to younger adults in our community.
In this exciting podcast series, Maddison and Harry, both digital marketing apprentices at Lichfield District Council, will delve into an assortment of subjects that resonate with the young people of our district. From tips on keeping fit, discussions about mental health, and insights into climate change, to exploring the influential role of young people in shaping the future of our towns and cities - "Voices from Lichfield District" will discuss it all and will feature guests sharing their thoughts on a wide number of topics.
Sometimes serious, often funny and always entertaining the first welcome episode is already available for streaming on popular platforms Apple Music, Spotify, and YouTube. To catch all the insightful conversations and stay informed on the latest episodes, simply click on the links below:
Apple Music: https://bit.ly/47aNgxl
Spotify: https://bit.ly/3rRBfwA
YouTube: https://bit.ly/44Qr7CO
Tracy Cross, Communications and Marketing Director at Lichfield District Council, said:
"At Lichfield District Council, we strongly believe in empowering our young community members and giving them a platform to voice their thoughts, ideas, and concerns.

"Councils are often not seen as interesting places to work but Maddison and Harry's enthusiasm and dedication to this project have been inspiring, and together with George Beesley from the Communications Team they have worked hard together to bring this to life. We are thrilled to see 'Voices from Lichfield District' launch and we hope many people, of all ages but especially our younger adults, tune in, engage, and participate in this powerful platform."
Initially releasing on a monthly basis, the creators of "Voices from Lichfield District" are eagerly awaiting feedback from their audience. With an appetite for more exciting content, Maddison and Harry are open to increasing the frequency of their episodes to cater to the listeners' demands. They also want suggestions for topics that people would like to hear on the podcasts, so feedback is always welcomed.
Maddison Hart said:
"We want 'Voices from Lichfield District' to become a platform where young people can find relatable discussions and valuable insights into the issues that matter most to us. By amplifying the voices of our generation, we want to foster a stronger sense of community amongst young people in our district – and have some fun whilst we are doing it."
Harry Dean said:
"We are also really pleased to launch the podcast so we can announce our competition. Are there any budding musicians and music writers in the district who would like to write the music for our podcast? We have some stock music in there now but we want something special and something younger people will like and we would love it to be written by someone local. If you want to find out more check out the competition website where you can find out more and share your entry"
Don't miss out on the opportunity to be a part of this extraordinary journey! Subscribe to "Voices from Lichfield District" on your preferred platform, and don't forget to spread the word among your peers.
For more information about the podcast and future episodes and to chat directly with Maddie, Harry and George, follow "Voices from Lichfield District" on Instagram and TikTok.