Electric street cleaning vehicle is unveiled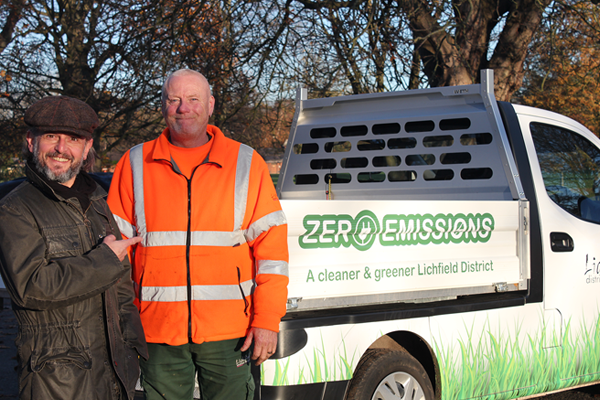 The launch of a new electric street cleaning vehicle ensures we are on the right track to creating a cleaner and greener Lichfield District.
Residents, shoppers and visitors will see a new fully electric street cleaning vehicle when out and about across the district.
We have bought its first electric truck to help with its street cleansing operations.
The vehicle will be used to transport the street cleaning team and their equipment across the district so they can work to keep the district tidy. This includes litter picking, emptying bins and removing fly-tipping from local roads and parks.
Councillor Ashely Yeates, cabinet member for climate change & recycling, said:
"I'm delighted to be launching our first electric vehicle for our street cleaning service.

"It's vital that we take the climate emergency seriously and this is a first step on the road to reducing our vehicles' carbon emissions and improving local air quality.

"We will look to buy more electric vehicles, while also considering alternatives such as hydrogen, when we need to make replacements, so we can work towards a cleaner, greener and more efficient street cleaning service.

"While we have already implemented many actions to reduce our carbon emissions we will soon be launching our action plan, which we are both excited and committed to and see it as an integral part of this council's future."
The zero emission vehicle is a Nissan EN200 EV and will run for around 150 miles on a full charge. It will be charged at the council's operational services depot in Burntwood.