Council promotes 'business hive' opportunities at open evening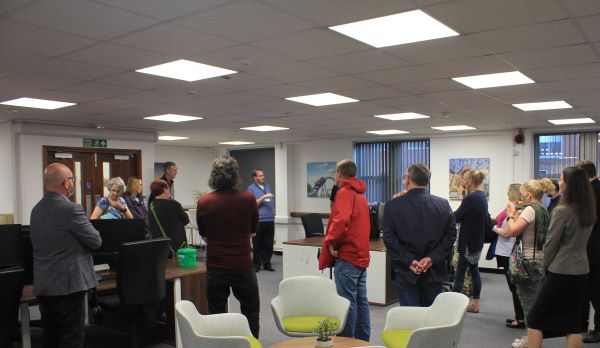 Businesses interested in utilising office space at Lichfield District Council have visited to see the facilities on offer.
While staff have returned to District Council House in the wake of the Covid pandemic, it is on a hybrid working basis and large, vacant areas of the Frog Lane building are now being made available to private companies and the self-employed.
Last week some 18 guests came along to learn more about the office space and tour the building.
Desks will be available for periods to suit the tenant; for months, weeks or as little as one day.
There are meeting rooms, premium broadband and tenants will be able to benefit from PO Box addresses, on-site parking and a series of planned networking events.
Our building management team is based on-site and able to respond quickly to any issues that may arise.
The open evening was also an opportunity for the council to find out what businesses want so that the office space can be adapted to meet their needs.
More than 15 businesses have now reserved office space and it is expected the first tenants will be in by October 1.
The Leader of Lichfield District Council, Councillor Doug Pullen, said:
"The open evening went very well.

"It was a pleasure to meet business principals from across the district and show them the fantastic office space that we have available here at District Council House.

"We have plenty of space available for businesses and our aim is to make District Council House a hive of commercial activity."
For more information about the Business Hive or to register interest please email the Lichfield District Council's Economic Development Team.