Conservation project will help prevent flooding and cleanse pool and stream in Beacon Park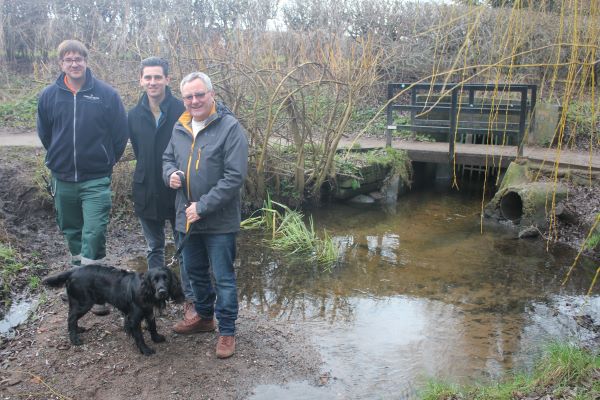 Lichfield District Council is driving an environmental project in Beacon Park to prevent flooding, improve water quality in its pool and stream and enhance the natural habitat for wildlife.
The scheme will see the installation of special coir rolls (an organic barrier) around the pool to protect the water's edge from erosion mitigating against the effect of heavy downpours.
Reeds have been transplanted to two drains identified as sources of pollution in nearby woodland and they will filter pollutants which are entering the stream.
Also, to allow more natural light to enter the area, Willow trees situated on either side of the stream have been pruned.
The £2,000 project cost has been funded exclusively by In-Form Solutions Ltd, a Lichfield-based management consultancy which provides specialist support to the NHS.
Lichfield District Council Park Ranger, James Myers, said:
"We wish to thank In-Form Solutions Ltd for supporting this important project which will help to conserve and restore the natural habitat in Beacon Park.

"Adding coir rolls around the pool will protect its banks from erosion and act as a filter for polluted run-off surface water, absorbing nutrients that create algae to trap sediment and debris.

"Transferring the reeds creates a meandering current, filtering contaminants which improves the ecosystem providing an enhanced habitat for wildlife."
John Griffiths, Managing Director of In-Form Solutions Ltd, said:
"We wanted to make something better in Lichfield - do what we can to support the city.

"We have developed a partnership with the district council and upon learning of the project in Beacon Park we were keen to support it. It is essential to cleanse the pool – it is good for wildlife and helps create an environment that benefits everyone."
In-Form Solutions Ltd's commitment to the environment has also been officially recognised through its recent achievement of the ISO 14001:2015 environmental management standard.