Community clean up in Lichfield is hailed 'a success' by organisers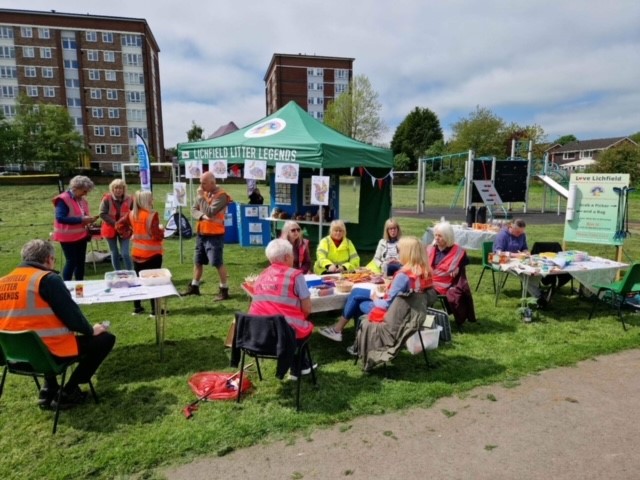 Lichfield residents came together last Saturday (12 May) to clean up their neighbourhoods removing rubbish, litter-picking and planting bulbs to improve the areas' appearance.
Lichfield Litter Legends led the 'Be Proud of Your Community' event in the north of the city supported by the Lichfield District Community Safety Partnership, Bromford Housing, Lichfield District Council and Lichfield Police with sponsorship from The Community Foundation for Staffordshire.
Six skips were delivered and situated at Marks Walk, in Windmill Lane, Needwood Hill, on Oakenfield, Bloomfield Crescent and at Curborough Community Centre with residents encouraged to bring items they no longer required to fill them.
Bob Harrison of Lichfield Litter Legends said:
"Within the first three hours of the day, the skips were filled to the brim and taken away. There was lots of thanks and a few tears from grateful residents who were struggling to get rid of their unwanted bits and pieces.

"More than 30 volunteers from Lichfield Litter Legends gave up their Saturday to help man the skips, litter pick and generally make the area look tidy.

"By the end of the day 29 bags of litter had been collected. It was a great day that everyone involved should be very proud to have been a part of."
Children's activities were organised as part of the event including rock painting and colouring and sweets and snacks were provided.
Bob wished to thank Curborough Community Centre for opening its doors for the event, Barnes Skips, and The Plant Plot for its help with the provision of plants and bulbs that were distributed to residents.
Yvonne James, Principal Community Safety Officer at Lichfield District Council, said:
"The Be Proud of Your Community event was the first of its kind in the district – an opportunity for people to work together to tidy their neighbourhood.

"We understand that some members of the community don't have the ability to be able to pay for a fridge to be collected and disposed of properly, some may not be physically able to weed their boundaries, clear their rubbish or may not know how to recycle effectively.

"The event enabled residents to meet representatives from various organisations and talk about how they could assist.

"It was a fantastic success, we received lots of appreciation and requests to repeat the event in the future."
Councillor Paul Ray, district councillor for the Chadsmead Ward said:
"I am delighted to have been involved with this initiative from its inception until the community day itself last Saturday.

"I would like to thank all involved and the day was a great success. You could tell that by the reaction and engagement of the community. The residents really appreciated the initiative and I now look forward to a repeat event so that we can build on the impact of this initial day."
A spokesperson for Bromford Housing said:
"Following concerns raised by the community around fly tipping and a general issue with litter, Pride in Your Community Day was organised to encourage the community to clear out any items they were struggling to get rid of, at the same time as getting involved with some fun activities we arranged.

"It was lovely to see neighbours helping each other and joining in the fun on a lovely sunny Saturday. Great partnership work in action, responding to community concerns in a positive way."