First of four knife bins for the Lichfield district is launched at city's Tesco store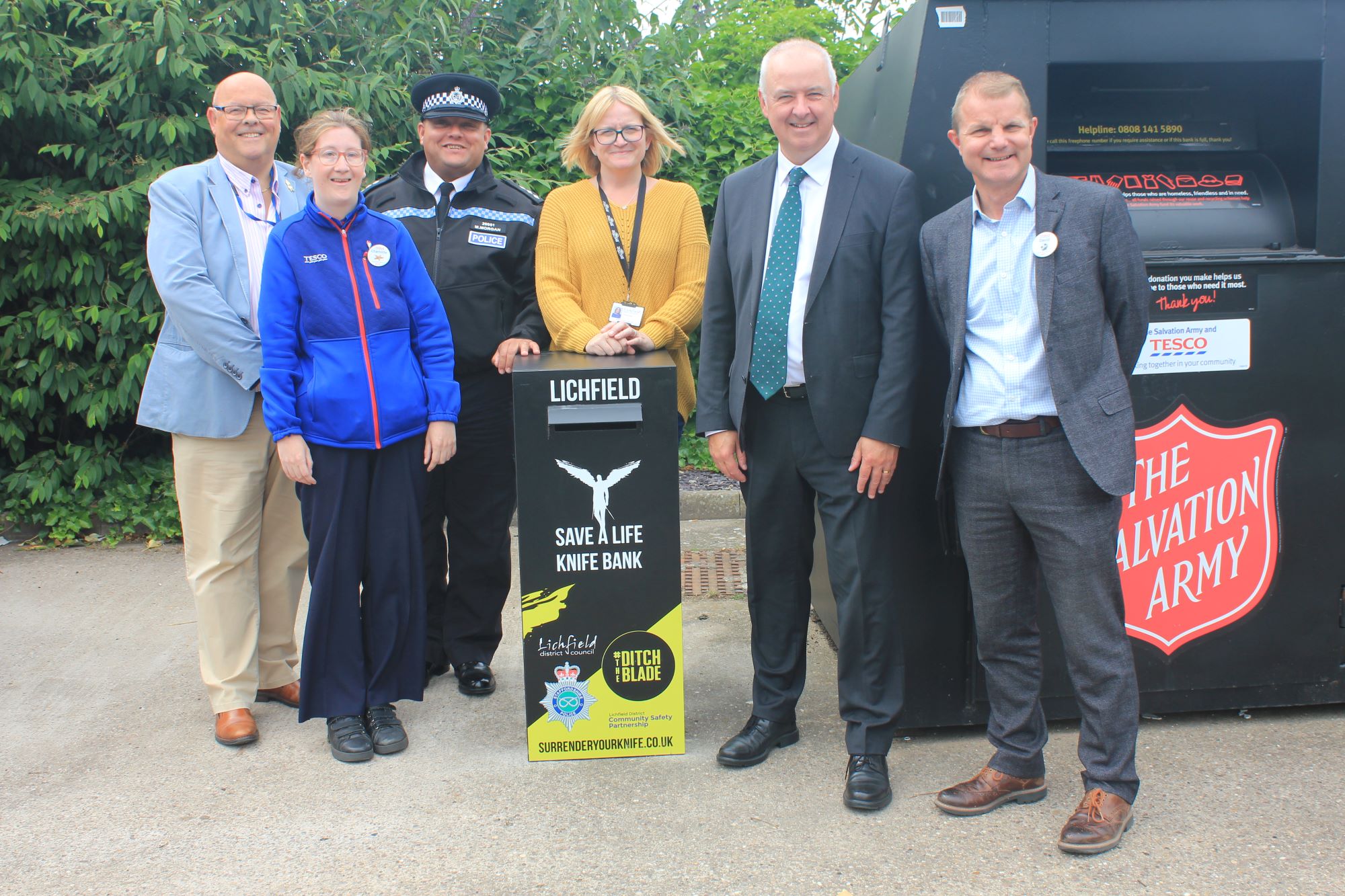 A knife bin has been launched in Lichfield to encourage people to relinquish blades as part of a National Youth Anti-Violence campaign.
The bin, at the Tesco Extra store in Church Street, has been specially designed to provide maximum safety and once deposited, knives are secure until they are removed by professionals.
Launched yesterday (4 July) it is one of four being permanently secured at sites in Lichfield and Burntwood this month to take knives out of our communities - the other sites being Morrisons in Burntwood, Burntwood Leisure Centre and Morrisons in Lichfield.
The bins are part of a wider package of partnership activity with schools and community groups in July to deter young people from choosing to carry knives by alerting them to the dangers and consequences.
Police officers will regularly check the bins, empty them of knives and provide feedback on the number of blades collected to Lichfield District Community Safety Partnership.
Lichfield District Council's Principal Community Safety Officer Yvonne James said:
"A knife bin is a place where you can safely dispose of a knife, blade or other weapon.

"The bonus with these bins is that all knives that are placed in them will be melted down and the metal recycled so not only is it keeping knives off the streets, it is a great way to recycle.

"If you have bought a new knife block for your kitchen, if you think everyone is carrying a knife, so you do, but don't want to – these are places you can go to safely dispose of them."
Chief Inspector Matthew Morgan, from the Lichfield Local Policing Team (LPT), said:
"The introduction of knife surrender bins in Lichfield is a really positive step in helping to keep our streets as safe as possible.

"Although 99 per cent of young people don't carry a knife, we want to encourage those who do to ditch the blade for good as we continue to work alongside our partners to put a stop to knife crime in Staffordshire."
Funding for the knife bins has come from the Locality Deal Fund, provided by Staffordshire Commissioner for Police, Fire and Rescue and Crime Ben Adams, which Lichfield District Community Safety Partnership has allocated to the initiative.
Mr Adams joined Lichfield District Council's Cabinet Member for Community Engagement, Councillor Richard Cox, for today's launch of the knife bin which is located in Tesco's car park.
Councillor Cox said:
"I'd like to thank Ben Adams for making funding available so the knife bins can be provided in Lichfield district, and Tesco for agreeing to be a host.

"I am pleased that four are being installed this month – two in Lichfield and two in Burntwood – and I hope that people will deposit knives into them.

"They can help in our collective effort to keep our communities safe from knife crime."
Mr Adams said:
"We can all play a part in tackling the issue of knife crime, whether that's through reporting any concerns to Police, educating our young people about the consequences, or businesses installing a knife surrender bin on their premises.

"I'd like to thank Tesco for their support in offering an accessible city-centre location for anyone to safely deposit unwanted knives. Other bins are also being installed in locations in Burntwood and Lichfield as part of this important campaign to raise awareness of knife crime and keep our communities safe."
The installation of each knife bin in Lichfield and Burntwood will be announced as it takes place this month.