Pedestrianisation trial survey launched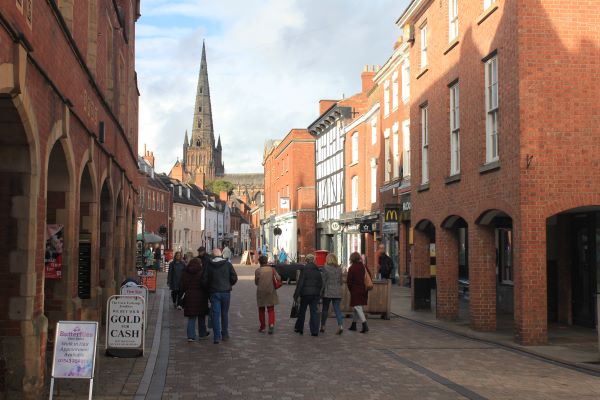 We have launched a new survey to gather valuable feedback on the trial pedestrianisation scheme in the city centre. As part of an ongoing consultation with residents and businesses, the survey seeks opinions on the scheme which was implemented in March. 
You can fill the survey in online, or alternatively paper copies are available at the council's reception desk located in Frog Lane.
In the coming weeks, council officers will also be out and about in the city centre speaking to people to get their thoughts on the four-month-long trial of the pedestrianisation scheme to date.
The feedback received from this survey and ongoing consultations will play a crucial role in shaping the future of pedestrianisation in Lichfield City. By continuously assessing the trial's impact, we aim to enhance the scheme's effectiveness and contribute to the creation of a safer and more vibrant city centre.
Recently, over 100 people, including blue badge holders and local businesses, met with Councillor Doug Pullen, Leader of Lichfield District Council, and representatives from the council to discuss potential modifications to the scheme, based on the feedback so far.
Continuing this collaboration, a special session is scheduled for Thursday 13 July to focus on the commercial aspect of pedestrianisation. Local businesses are encouraged to participate in this discussion, which will take place from 6pm - 7pm in the Council Chamber at Lichfield District Council House. Registration for the event is open until 4pm on Thursday 13 July - fill in our registration form to reserve your space.
Reflecting on Monday's productive workshops, Councillor Doug Pullen, Leader of Lichfield District Council, stated: "It was a pleasure to engage with residents and businesses earlier this week and present potential refinements to the pedestrianisation scheme, driven by the feedback we have received to date. The objective of this trial was to assess the impact of traffic restrictions in Lichfield City centre, and we are delighted to collaborate with business owners, blue badge holders, and residents to explore possibilities for improvement, ultimately creating a safer and more vibrant city centre."
Detailed notes from all the sessions conducted this week will be published to the pedestrisation website section shortly.