City centre pedestrianisation trial (ETRO)
Key facts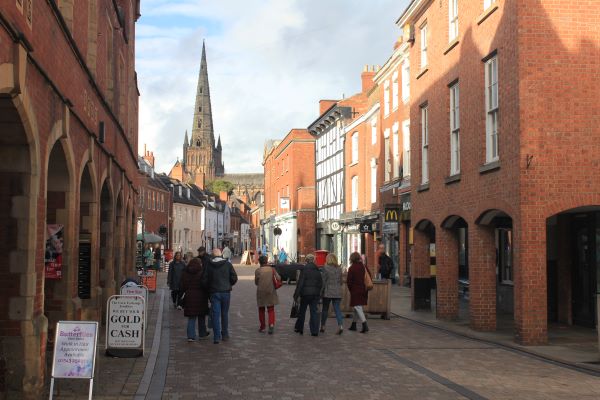 We are working with Staffordshire County Council to make the city centre an attractive, safe, and vibrant place for people to visit, work and live.
As part of this, experimental pedestrianisation is currently being trialled for an initial six-month period in some areas of Lichfield City Centre.
The first stage of the trial is taking place between March and August 2023. If, at any point during, or at the end of the first six month period, changes to the ETRO are agreed, a further six-month consultation period will begin with those changes in place - so the changes can be tested and more views can be captured.
The aim of the trial is to determine whether the proposed pedestriaisation could make Lichfield city centre safer for shoppers, workers and visitors, reduce air pollution, and promote sustainable travel.
The Experimental Traffic Regulation Order (ETRO) in Lichfield city centre will restrict vehicles at all times. The roads affected will be:
Market Street
Tamworth Street
Conduit Street
Breadmarket Street
Bore Street
Dam Street, Sandford Street and Bird Street (incorporating existing restrictions at these locations)
Exceptions include loading from 9pm to 12noon for businesses, and access to off-street parking facilities accessed through the city centre trial area.
Find out more about the trial, what people have told us so far, and how to give your views as part of this section.