City centre pedestrianisation trial (ETRO)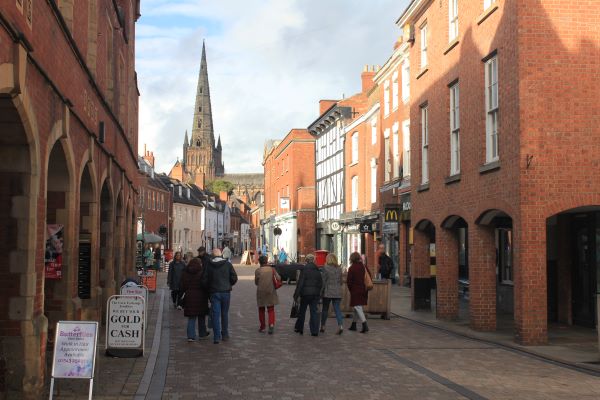 We are working with Staffordshire County Council to make the city centre an attractive, safe, and vibrant place for people to visit, work and live.
As part of this we are trailling pedestrianisation (as part of an experimental traffic regulation order (ETRO), for up to 18 months.
The aim of the trial, which began in March 2023, is to determine whether the proposed pedestriaisation could make Lichfield city centre safer for shoppers, workers and visitors, reduce air pollution, and promote sustainable travel.
An ETRO can be amended during the course of a trial. Based on local feedback from city visitors, shoppers, blue badge holders and local businesses, the trial restrictions were updated on 31 July 2023.
The ETRO now restrict vehicles travelling through the following city streets between midnight on Wednesday nights, Thursdays, Fridays, Saturdays, and Sundays until midnight.
Market Street
Tamworth Street
Conduit Street
Breadmarket Street
Bore Street
Dam Street, Sandford Street and Bird Street (incorporating existing restrictions at these locations.
Exceptions include loading from 9pm to 12noon for businesses, and access to off-street parking facilities accessed through the city centre trial area.
From 31 July 2023, unrestricted access has been granted to blue badge holders, delivery drivers, and permit holders on Mondays (from midnight on Sunday), Tuesdays, and Wednesdays until midnight.
In line with legislation, this order will be accompanied by a new six-month consultation period, specifically designed to capture, and analyse feedback from all users and stakeholders.
For the first eight weeks of the new eTRO drivers into the pedestrianisation area on Thursdays to Sundays will be stopped and advised of the restrictions until new traffic signage is in place.
Once the new signs are installed robust management of the traffic restrictions will start, and fines will be issued where appropriate.
All residents, businesses, blue badge holders, and stakeholders are encouraged to take part in the new consultation process - details of how to share feedback will be released in the coming weeks.