City centre pedestrianisation trial
City centre pedestrianisation trial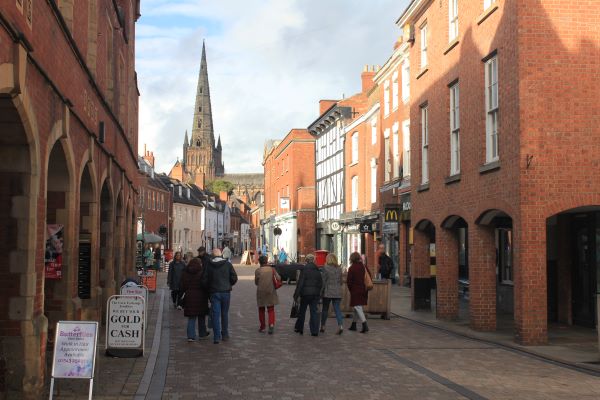 A trial pedestrianisation scheme is in place in Lichfield City centre (as part of an experimental traffic regulation order).
As part of the trial, vehicle movement is restricted on Market Street, Tamworth Street (beyond the signs), Conduit Street, Breadmarket Street, Bore Street, Dam Street, Sandford Street (beyond the signs) and Bird Street (beyond the signs) at all times.
Exceptions to this include:
Blue badge holders who can drive into and park in the pedestrianisation zone in designated parking bays between midnight on Sundays and midnight on Wednesdays.
Drivers delivering to businesses are able to drive into the pedestrianisation zone to drop items off at any time between midnight on Sundays and midnight on Wednesdays, and until 12noon and after 9pm on Thursdays, Fridays, Saturdays and Sundays.
Residents and businesses who have private parking facilities accessed through the pedestrianisation zone can access these at any time provided they display a valid permit.
New road signs have been installed at the entrances to the pedestrianisation zone to alert drivers about the restrictions, and from Thursday 16 November 2023 penalty tickets will be issued to any unauthorised vehicles entering the zone.
The aim of the trial is to make the city even more vibrant, welcoming and attractive to visitors and shoppers.
Drop in events
We are holding a drop in event in January and you can also give your views online - find out more.
Outside seating in the pedestrianised zone
The current phase of the Experimental Traffic Regulation Order (ETRO) suggests constraints on the times of day when tables and chairs can be put out in front of premises in the pedestrianised (ETRO) zone.
These constraints are not the intent of the scheme and will be removed as soon as is practicable. No enforcement action will be taken against any premises placing street furniture outside in the pedestrianised (ETRO) zone during this period.