City centre pedestrianisation trial
Frequently asked questions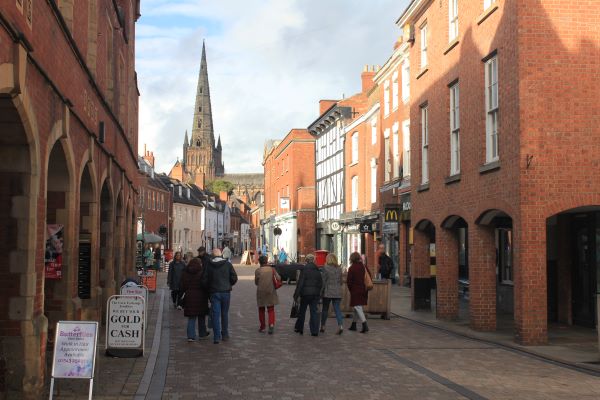 Why is the pedestrianisation taking place?
In partnership with Staffordshire County Council, Lichfield District Council is keen to test out pedestrianisation of Lichfield city centre through an Experimental Traffic Restriction Order (ETRO).
The aim is to determine whether pedestrianisation can make the city more attractive to shoppers, workers and visitors, to reduce traffic movement and reduce air pollution in this locality whilst giving priority to pedestrians where appropriate.
Lichfield District Council's City Centre Masterplan (p56) suggested that the removal of vehicles within the city centre core would be beneficial to the vibrancy and feel of the city's core. The strategy found that due to the nature of Lichfield, the cobbled paths are very narrow, and people often walked in the road.
What is an Experimental Traffic Restriction Order?
A Traffic Regulation Order (TRO) is a legal order, which allows the Local Highway Authority (LHA) to regulate the speed, movement and parking of vehicles. The act governing Traffic Orders is the Road Traffic Regulation Act 1984 and this is enforceable by law. In Staffordshire, moving Traffic Orders are enforced by the police and on-street parking restrictions are enforced by Staffordshire County Council (SCC).
An Experimental Traffic Regulation Order (ETRO) is very similar to a TRO except that the order is not permanent. Instead, an ETRO can only be in place for a maximum of 18 months. ETROs are often used by local highway authorities (in this case Staffordshire County Council) to assess the effects of new arrangements, before potentially making them permanent.
What has happened to the disabled parking bays during the trial?
Thirty-six Disabled Persons Parking Bays (DPPB) have been relocated to Bird Street car park and Lombard Street car park for the trial period. This arrangement was reviewed and validated by AccessAble, a disability support consultancy and has resulted not resulted in a loss of designated car parking for Blue Badge holders. Lichfield District Council commissioned AccessAble to review the proposed trial before the ETRO was implemented. AccessAble provided a full report confirming that the blue badge parking bays provision that is supporting the trial is appropriate.
What time is traffic be restricted during the day?
Traffic will be restricted to motorised vehicles at all times, with exceptions for loading from 9pm to 12 noon, and access to off street parking facilities.
Which streets are affected?
New restrictions would apply to Market Street, Tamworth Street, Conduit Street, Breadmarket Street and Bore Street and incorporate existing restrictions at Dam Street, Sandford Street and Bird Street.
How long will the ETRO be in place for?
The formal Experimental Traffic Regulation Order (ETRO) runs for 18 months from March 2023, including a six-month formal consultation process between March and August 2023. Informal consultation has been taking place since 1 January 2023.
What will happen after the 18-month period?
An ETRO is usually in place for up to 18 months with a decision made either at the end of this period, or before, as to whether the ETRO is subsequently made permanent or removed altogether. The first six months is the formal consultation period so that feedback and objections from all users/stakeholders can be recorded and formally considered.
Feedback on the trial will be reviewed after the first six months, at which point changes may be made before a further six-month consultation period may take place.
How could the restrictions be monitored and managed longer-term?
The preferred enforcement method is the use of Automatic Number Plate Recognition (ANPR). ANPR would use fixed cameras sited at all entry points to the pedestrian zones (including Tamworth Street and Bird Street from the Friary and Sandford Street access points) which read number plates and automatically check these against an approved list of vehicles.

Whilst ANPR is the preferred enforcement method, the installation of camera's and an ANPR system doesn't form part of the current ETRO proposals and will only come forward if it's needed as phase two.
Once the ETRO has been in operation for a reasonable time, a traffic study will be undertaken to review the amount of traffic that is contravening the pedestrian zone to determine if ANPR is actually required and to formulate an expected payback period based on transgressions. If a traffic study shows that there's merit in introducing ANPR and if SCC have the delegated powers to enforce moving traffic offences, a second phase could come forward. This would be a partnership between LDC and SCC.
Will I be fined if I park in the ETRO area?
Any drivers entering the pedestrian zone are breaching the legal order and are committing an offence, as well as potentially invalidating any vehicle insurance policy they may hold.
The revised pedestrianisation scheme restricts vehicle movement in the city centre and is now being enforced.
New road signs have been installed throughout the pedestrianisation zone to alert drivers about the restrictions which will be enforced from Thursday 16 November 2023.
Is there flexibility on access for delivery vehicles?
Delivery vehicles will be subject to the restrictions and times of operations listed during the Experimental Traffic Regulation Order.
The ETRO seeks feedback over the next six months from residents/businesses and this is important in helping to determine whether the current times and restrictions are suitable.
How is this going to affect the market traders?
Market traders will need to comply with the restrictions, however if the hours of operation for the market necessitate it, they can apply to be added to the approved drivers list.
This will allow registered vehicles to access the controlled area.
Please contact etropermits@lichfielddc.gov.uk for further information.
How can I talk with someone about the ETRO?
You can email the council officer managing the project at martin.gritt@lichfielddc.gov.uk, call 01543 308000.
If you missed our drop in sessions this spring, and consultation events in April, more sessions will be arranged if required, so that everyone can share their thoughts during the trial period.
How can I request a permit for a vehicle?
Permits can be obtained by residents and businesses with access to off road facilities at all times.
Please email etropermits@lichfielddc.gov.uk with your name, company name, address and telephone number and your permit will be posted out.
The team handling the enquiries will need to contact you to confirm details and ensure validity of the request.