Businesses' pride as they join community heroes in being honoured with Beacon Awards at glittering celebration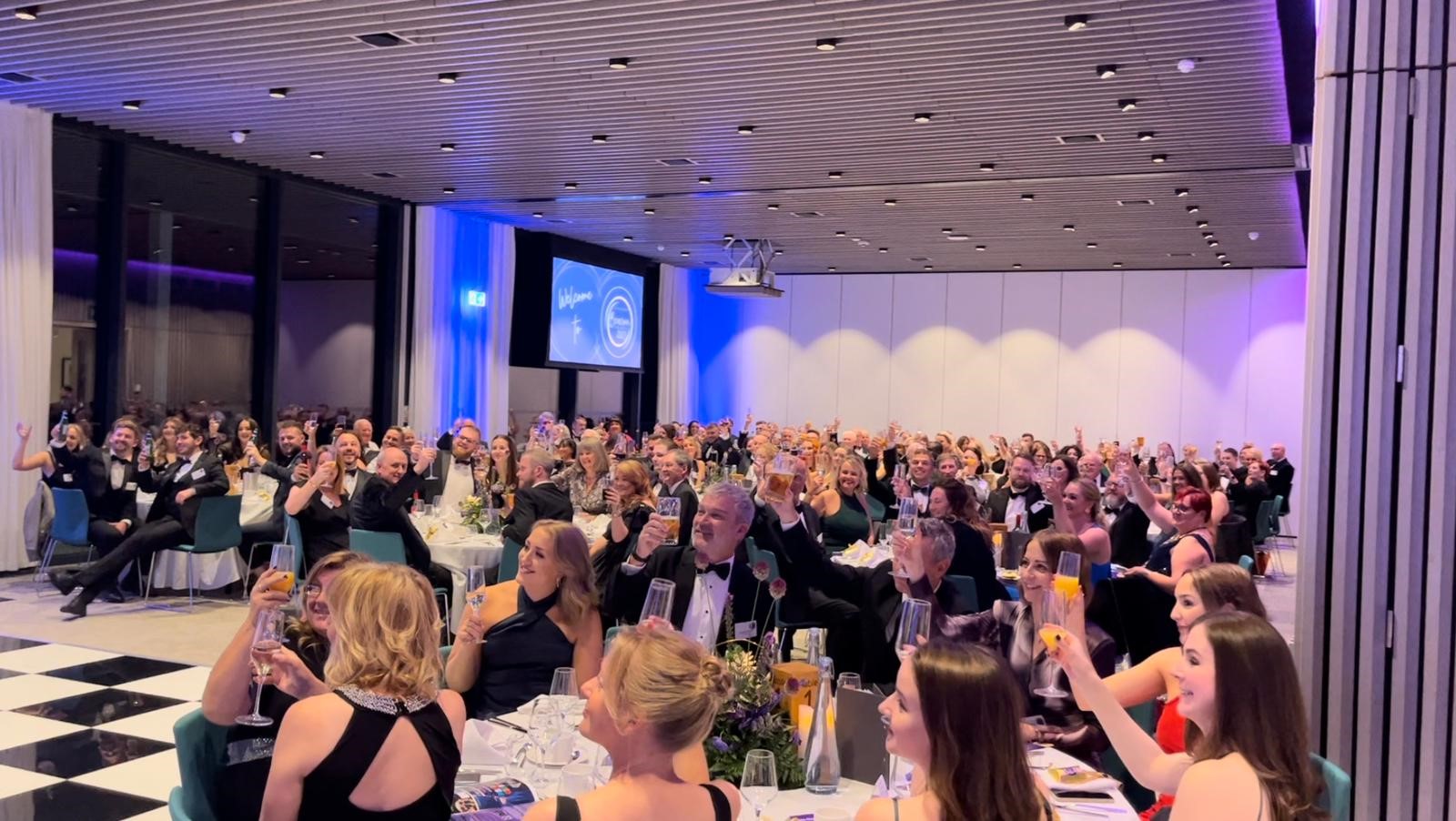 Some of the best businesses and most community-minded people in Lichfield District have been honoured at the inaugural Beacon Awards.
At the gala celebration at the National Memorial Arboretum on Thursday evening (12 October) business representatives and teams gathered with district 'heroes' and council representatives in the Aspects Building to recognise each other's achievements over the past year.
The event, organised by Lichfield District Council, was compered by Deputy Lieutenant of Staffordshire and prominent businessman James Leavesley DL who welcomed everyone to the occasion.
Following a delicious meal, the awards were presented in numerous categories. The winners, Highly Commended and Commended, are:
Start Up Business of the Year. Winner, Lichfield PAT Testing; Highly Commended, Lichfield Maize Maze; Commended JPF First Aid
Independent Business of the Year. Winner, JCFX Media; Highly Commended, The Listening Centre; Commended, Brookfields Luxury Boarding and Canine Care Centre
Customer Service Award. Winner, Friary Shoes; Highly Commended, The Hub at St Mary's, The Listening Centre; Commended Brookfields Luxury Boarding and Canine Care Centre
Tourism and Hospitality Business of the Year. Winner, Lichfield Garrick; Highly Commended, Duke of York; Commended, Lichfield Maize Maze
Apprentice/Young Businessperson of the Year. Winner, Sydney Tearle; Highly Commended, Alicia Cheeseman
Employer of the Year. Winner, Zest Education; Highly Commended, Haywoods Contracts; Commended, Brookfields Luxury Boarding and Canine Care Centre
Small Business of the Year. Winner, The George Hotel; Highly Commended, The Hub at St Mary's; Commended, Jukes Funeral Services
Best Sustainable Business. Winner, Grace Cares; Highly Commended, Mercian Labels; Commended, Lichfield Maize Maze
Entrepreneur of the Year. Winner, Jukes Funeral Services; Highly Commended, Duke of York; Commended, Embrace Video
Lichfield Shining Light. Winner, Chase Terrace Academy; Highly Commended, Sharon McCormick; Commended, Janet Bamber
Community Hero. Winner, Grace Cares; Highly Commended, Sharon McCormick
Charity or Social Enterprise of the Year. Winner, Liberty Jamboree; Highly Commended, Shenstone Library; Commended, Graces Cares
Large Business of the Year. Winner, Lichfield Garrick; Highly Commended, Davisons Law; Commended, Sure Store
Inspirational Impact Award. Winner, Tony Christie
A Spokesperson for Lichfield District Council said:
"The first Beacon Awards evening was a great success. It was an important opportunity for the district's businesses and community heroes to be recognised for all their hard work.

"We wish to thank the National Memorial Arboretum and its staff, James Leavesley DL, the awards judges and the band Johnny and the Hound dogs who provided musical brilliant entertainment.

"A special thank you to Beacon Awards sponsors Pool House, Normans Bookkeeping and Payroll, Allen Brown, Lichfield and Tamworth Chamber of Commerce, The Style Hut and Blissful Yoga whose financial contributions allowed us to put on the event. We are already looking forward to the next Beacon Awards."
Maggi Huckfield of Liberty Jamboree, which won 'Charity or Social Enterprise of the Year', said:
"Liberty is very proud to receive this award. We provide out of school provision for young people with disabilities to help them enjoy life. This award will hopefully enable recognition of the group to grow within the community."
Julie Poppleton, Director Careers at Chase Terrace Academy, which won the 'Lichfield Shining Light' award, said:
"We were unbelievably honoured to have been shortlisted for this award and to attend such a high-profile event. The event itself was held in such a beautiful location with a euphoric atmosphere. Winning the award, was a truly humbling and unforgettable experience and one which we are incredibly proud of."
Anthony Greenidge, General Manager at The George Hotel which won 'Small Business of the Year', said:
"The George Hotel is so proud to be part of the Lichfield community and we were thrilled last night to be the winners of the Small Business Award at the inaugural Lichfield District Beacon Awards.

"Members of our team had a wonderful evening at the National Memorial Arboretum with The George being amongst several local businesses that also picked up awards which shows the wealth of talent we have on our doorstep."
Scott Barker, Managing Director of Zest Education, which won 'Employer of the Year', said:
"We are incredibly proud to have been recognised for our hard work at the inaugural Beacon Awards.

"It was a fantastic night celebrating local achievements and we can't wait to attend the next one. "Well done to all the winners and a big thank you to Lichfield District Council for putting on such a brilliant night."