Lichfield time travellers - augmented reality app
Meet historical characters on a walk around the city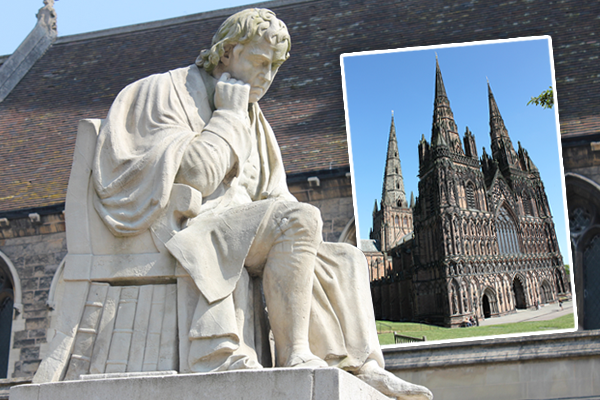 The Lichfield time travellers app invites you to take a walk through the city's streets meeting historical figures including Dr Samuel Johnson, poet Anna Seward, scientist and inventor Dr Erasmus Darwin, actor David Garrick and more. All you need is a smartphone.
At each of a dozen locations Time Portals can be opened by scanning the area around you and a figure from Lichfield's past is pulled through to tell their story.
Meet Dr Johnson's faithful friend and manservant, Francis Barber, as he arrives to go fishing in his adopted city and St Chad of Mercia, the first Bishop of Lichfield, who is returning following a long trek.
Each figure appears in the street before you and leaves behind a time crystal containing an artefact for you to collect as you progress.
It's easy to enjoy the Lichfield Time Traveller's AR experience which has been developed by the Visit Lichfield team and developers this great adventure. Start by downloading the app to your iOS or Android device or by searching for Lichfield Time Travellers in the Apple Store or Google Play Store.
Once the app is downloaded, you'll enjoy a short introduction before a live map launches to help you navigate the trail.
This project was funded through The Welcome Back Fund, £185,002 received from the England European Regional Development Fund as part of the European Structural and Investment Fund's Growth Programme 2014-2020.